Movable Platform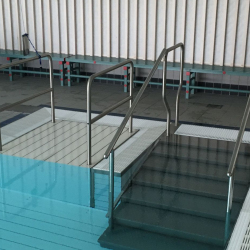 Article:

AVML1049

Made in: EU

Material: Stainless Steel/PVC

Dimensions: 1120x1310 mm

Information: Availabe option with remote control

The Malmsten Movable platform allows people with physical disabilities to be lowered into the water. With a remote control, persons in wheelchairs can maneuver the Movable Platform on their own.
For safety reasons, the platform moves to a max of 90 cm. It can be installed either in a niche or in a corner of the pool.
A telescopic wall provides a safety feature preventing people from swimming under the lifting platform.
Another sports equipment from category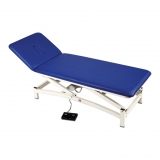 Medical examination couch
Article:AVSS1533
Made of two padded and vinyl covered sections electrically adjustable in height and inclination. Headpiece with breathing hole. Total dimensions of surface cm 190×65. Varnished steel structure. Made in EU.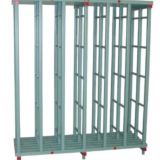 Rack for swim mats storage - XL6
Article:AVRE1020
Material: Durable plastic
Dimensions: Depth: 700 mm Height: 2320 mm, Length: 2000 mm
Colour: Light green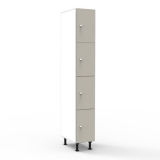 LOCKERS 4 DOORS MT4 for gyms, swimmings pools and wellness areas
Article:lockers—4—doors—mt4—for—gyms—swimmings—pools—and—wellness—areas
Made in: EU
Model: MT4
Category: Equipment for locker rooms