Field Line - FINA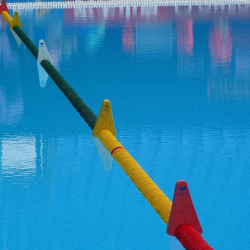 Article:

AVML1018

Made in: EU

Official FINA Field Lines for WP, in accordance with FINA regulation

Wave Energy Dampening

Discs: Ø 100 mm (4")

Lengths: Made to measure respecting regulations

Lines are delivered complete with Take-up Reel and Tension Spring

The field of play water polo is framed with 2 field lines indicating field areas; where the distance between the respective goal lines shall be 30m for games played by men and 25m for games played by women. From the goal line - each side - there is 2m red, followed by 4m yellow with a red mark 5m from goal line in the yellow field. For men the green area is 18m and 13m for women. There is always a centre mark in white. Field lines are affixed in pool wall and made to measure to fit any pool dimentions. Most often field of play is centred in pool and the field lines made from 100mm/4" material complete with take-up reel and tension spring.
Another sports equipment from category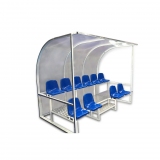 Water Polo Team Bench
Article: AVML1040
Made in: EU
Perfect advertising space 3010 x 1280 x 1400mm
Material: aluminum construction, polypropylene seats, polycarbonate panels
Color: powder coated, any RAL color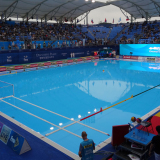 Official FINA Water polo field
Article:AVML1020
Made in: EU.
Water Polo Field for FINA Official Competitions.
Set:
— 2 longitudinal paths,
— 8 paths for support of gate,
— 2 paths — dividers of a zone of removal.
Color combination and field composition according to FINA rules.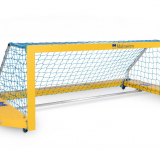 Water Polo Goal Beach/Junior
Article: AVML1026
Made in: EU.
Material: Aluminum.
Measurements: 2500 x 800 mm x 1586 mm
Measurements of frame: 76 x 40 mm.
Colors available: Yellow