Longitudinal grating bendable 1015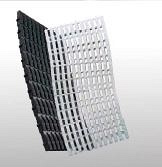 Article: AVIN1015
Material: Polypropylene copolymer
Dimensions: 50 cm module.
Width: 24.7 cm
Thickness: 2.5 cm
Colour: White
Compliance with: Made according to FINA rules
Stabilized to UV—ray. No—slip design.
Another sports equipment from category
Storage reel
Article: AVIN1026
Storage reel stainless steel AISI 316 and HPL plastic laminate, mounted on 4 rubber—coated stainless steel swivel wheels with brakes. Capacity 5 lanes 25m, ?110 mm or 3—4 lanes 25m, ?150mm.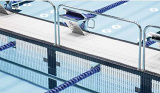 Moveable bulkhead
Article: AVIN1036
Necessary element, always more essential that enables the versatility of the pool, being able to divide the pool to perform several activities simultaneously. Built respecting all FINA standards and accident prevention, moveable bulkhead are easy to handle and bear a huge overload even in the absence of water.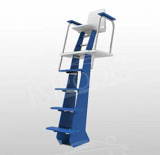 Surveillance high chair
Article: AVIN1034
Lifeguard use, permanent or movable, built with stainless steel (AISI 316).
Electro polished or powder painted finishing.
Copolymer no—slip steps and polypropylene chair, both with no—UV treatment.