Basketball practice unit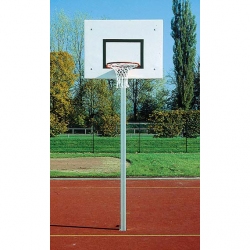 Article:

AVHS2028

Basket height 3050 mm.

This unit made of especially thick-walled special aluminium alloy 80 × 80 mm square profiles. Incl. back board mountings, glass-fibre back boards with baskets coloured orange, net coloured white, ground sockets – insertion depth 500 mm – with cover and special wedges. Glass-fibre back boards measuring 120 × 90 cm – absolutely weatherproof, scratch- and impact-resistant finish. Made in EU.
Another sports equipment from category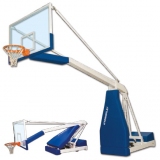 Hydroplay Training portable basketball backstop
Article:AVSS1205
Projection 325 cm, mobile.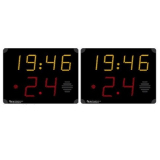 Basketball shot clocks SC24 TIMER SUPER PRO
Article:AVSR1026
Use: Indoor
Transmission: Radio (868 MHz) or cable. Work only with STRAMATEL Multisport scoreboard
Readability: 110m, angle >160°
Dimensions: 840 x 570 x 90mm
Weight: 11 kg
Power supply: 230V / 50—60Hz
Power consumed: 89 VA
Protection: Unbreakable matt polycarbonate front face (DIN 18032—3)
External Horn: 115dB at 1m
Mains cable (supplied): 2x25 m – Type: 230V, 3G, 0.75 mm²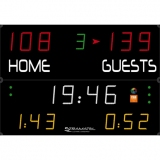 Multisport scoreboard 452 MF 7000
Article:AVSR1001
Use: Indoor
Transmission: Radio (868 MHz) or cable
Readability: 160m, angle >160°
Dimensions: 2600 x 1800 x 90mm
Weight: 75 kg
Power supply: 230V / 50—60Hz
Power consumed: 167 VA
Protection: Unbreakable matt polycarbonate front face (DIN 18032—3)
Horn: 2 integrated horns, total = 119dB at 1m
Mains cable (supplied): 1x25 m – Type: 230V, 3G, 0.75 mm²
FIBA approved for competitions level 1