Handball goals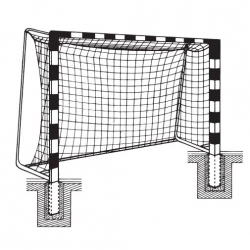 Article:

AVHS2021

For insertion into ground sockets, with aluminium cast corner joints, dimensions: 3 × 2 m.

Incl. rigid net hoops, net hoop supports and ground tubes made of galvanized steel tube, upright cover and Safety system net holders. Made in EU.
Another sports equipment from category
Vinyl flooring series 1200
Article:AVGR1005
Made in: EU
Material: Glass fibre reinforcment, combined double—foam backing.
Dimensions: Thickness: 4,5 mm
Weight: 2,8 kg/m2
Roll length: 20 m
Roll width: 2 m
Colour: Orange, blue, green, ash natture.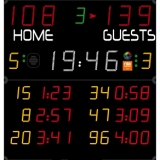 Multisport scoreboard 452 MB 3004
Article:AVSR1021
Use: Indoor
Transmission: Radio (868 MHz) or cable
Readability: 110m, angle >160°
Dimensions: 1900 x 2000 x 90mm
Weight: 61 kg
Power supply: 230V / 50—60Hz
Power consumed: 207 VA
Protection: Unbreakable matt polycarbonate front face (DIN 18032—3)
Horn: 1x integrated horn, 116dB at 1m
Mains cable (supplied): 25 m – Type: 230V, 3G, 0.75 mm²
FIBA approved for competitions level 3.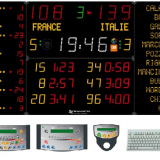 Multisport scoreboard 452 MB 3123-123
Article: AVSR1045
Use: Indoor
Transmission: Radio (868 MHz) or cable
Readability: 110m, angle >160°
Dimensions: 5300 x 2000 x 90mm
Weight: 170 kg
Power supply: 230V / 50—60Hz
Power consumed: 610 VA
Protection: Unbreakable matt polycarbonate front face (DIN 18032—3)
Horn: 1x internal horn, 116dB at 1m
Programmable team names or moving messages display for 1000 characters
Player number: 2 yellow LED digits (9 cm) per player (12)
Player points — 2 red LED digits (9 cm) per player
Player names (2 modules): 10 yellow LED alphanumerical characters (9 cm) per player (12)
3 lines of penalty time