Inflatable track 1000 x 140 x 10 cm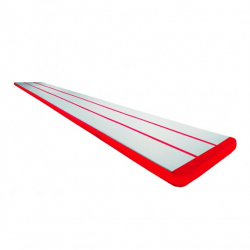 Article:

AVGY1219

Material: PVC

Dimensions: 1000 x 140 x 10 cm (LxWxH)

Folded dimensions: 80 x 65 x 25 cm

Weight: 34 kg

Specifications
- Inflation time: 57 secondes
- power requirements: 220 volts. Other power, please contact us
- PVC cover without phtalate
- Autonomous, this track can stay inflated during several days
- Comprising 1 inflat valves and hook-and-loop strips across both widths
- Supplied with 1 inflator, a pressure gage, a repair kit and 1 transport cover
- Optional trolley
Allows various assembly combinations to perform acrobatics on a flat working surface while ensuring stability and precision during push-off. Self-contained, track stays inflated for the entire duration of your daily pratices, without having to use the inflator. Easy to handle, it is convenient for all type and level of gymnasts from beginners to elite. Easy and quick to set-up and repack.
Another sports equipment from category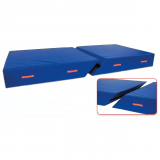 "Manoni" type landing mat
Article:AVSS1064
Filler made of foam, covered with pvc. Dimensions 400x200x45 cm, composed of two elements cutted
at 45° to be joined together by attaching the velcro strips. Density 16 kg/mc. Equipped with handles, zip and breather holes. Made in EU.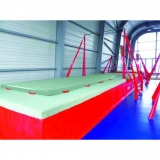 Raised landing pit
Article:AVGY1189
Material: PVC cover, JERSEY cover, foam
Color: red/gray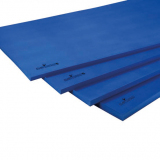 Mat Gold K14
Article:AVSS1077
Dimensions: 200x100x3 cm. Filler: polyurethane. Made in EU.