Small foldable safety end decks for large competition trampolines - FIG approved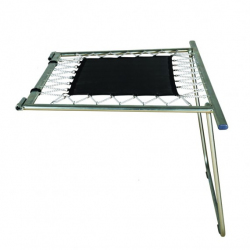 Article:

AVGY1199

Material: steel frame, PVC, jersey

Color: Gray

Dimensions:

143 x 250 cm (LxW).

Compliance with: FIG

Mats not included.

Set of 2 small foldable safety end decks.
Mats not included.
Allows trampoline and end decks to be folded away together.
Another sports equipment from category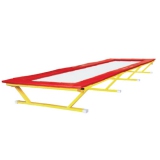 Acrotramp - Long Trampoline
Article:AVGY1210
Material: steel frame, PVC cover, JERSEY cover, Foam
Dimensions:
Bed height: 53 cm.
Bed width: 1.50 m.
Overall height (with guards): 60 cm.
Width: 2.20 m.
Length: 6.70 m.
Color: beige/red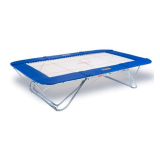 Trampoline Grand Master. FIG certificate.
Article:AVSS1129
Frame dimensions: 520x305x115 cm.For competitions. Special galvanized steel frame. Jumping bed in synthetic fabric with dimensions 426×213 cm jointed to structure by means of 118 steel springs. Lateral protective pads included. Rubber feet. Made in EU.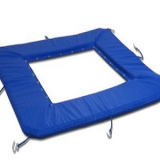 Side protection for trampoline
Article:AVSS1454
For trampoline AVSS1449, rubber foam covered with Btex, with buttonhole application. Made in EU.