Custom central mat for parallel bars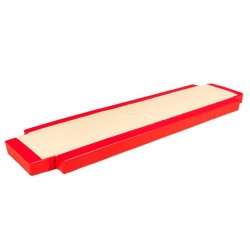 Article: AVGY1140
Material: Removeable PVC cover, Foam
Color: beige/red
Dimensions:
260 x 70 x 20 cm (LxWxTh).
Compliance with: FIG
Compliant with FIG standard, made from multi-layered foam providing improved load distribution and optimum stabilization when landing. It provides cushioning and shock absorption helping gymnasts. Fitted with carrying handles. Class M2 fire rating 1,000 denier "leather look" phthalate free PVC cover, removable.
Another sports equipment from category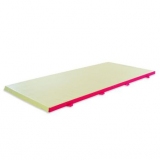 Additional landing mat for competition beam, bars
Article:AVGY1142
Material: Removeable PVC cover, Foam
Color: beige/red
Dimensions:
400 x 200 x 10 cm (LxWxTh).
Compliance with: FIG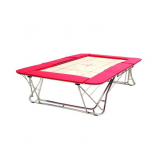 Large competition trampoline - 6 x 4 mm bed
Article:AVGY1194
Material: steel frame, PVC cover, JERSEY cover, foam
Color: Beige/red
Dimensions:
Unfolded: 520 x 305 x 115 cm (LxWxH).
Folded: 345 x 83 x 220 cm (LxWxH).
Weight: 245 kg.
Compliance with: FIG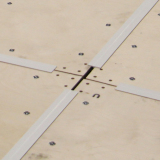 Sprung floor only for competition exercise floor (14x14m) - 13 x 13 m
Article:AVGY1005
Material: Wood Floor
Color: Wood
Dimensions: 13 x 13 m, Thickness : 10 cm.
Compliance with: FIG
Made in: EU.