Custom landing mat for beam - with base cut-outs - 200 x 200 x 0 cm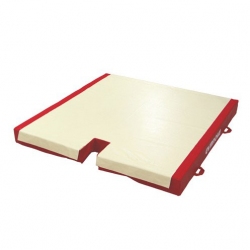 Article: AVGY1135
Material: Removeable PVC cover, Foam
Color: beige/red
Dimensions:
200 x 200 x 20 cm (LxWxTh).
Compliance with: FIG
.
Compliant with FIG standard, made from multi-layered foam providing improved load distribution and optimum stabilization when landing. It provides cushioning and shock absorption helping gymnasts. Fitted with carrying handles. Class M2 fire rating 1,000 denier "leather look" phthalate free PVC cover, removable.
- Custom mat for beam
- Hook-and-loop bib
Another sports equipment from category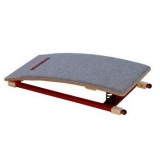 Training springboard
Article:AVGY1067
Material: Plywood / carpet—covered / metal
Color: Gray/red
Dimensions:
120 x 60 x 21 cm (LxWxH)
Weight: 24 kg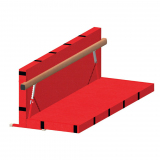 Custom folding mat
Article:AVGY1034
Material: PVC / Foam
Color: red
Dimensions: 460 x 320 x 100 cm
Made in: EU.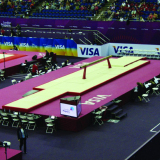 Set of landing mats for competition beam
Article:AVGY1111
Material: Removeable PVC cover, Foam
Color: beige/red
Dimensions:
2 mats (dim.: 100 x 200 x 20 cm)
2 mats (dim.: 100 x 200 x 20 cm)
2 mats (dim.: 200 x 200 x 20 cm)
6 mats (dim.: 200 x 200 x 20 cm)
1 mat (dim.: 300 x 200 x 20 cm)
2 mats (dim.: 200 x 150 x 20 cm)
1 finish joining PVC bib with hook—and—loop system (dim.: 21 x 21 cm)
Total area : 52 m².
Compliance with: FIG