Bench series "Q"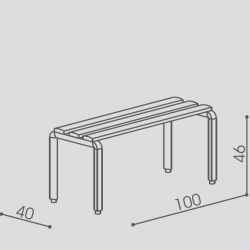 Article: AVGS1008
Made in: EU.
Material: aluminium profile, HPL, 12 colors to choose.
Standard measurements:
Height: 46 cm
Depth: 40 cm
Length: 100, 150, 200 cm.
Construction details
supporting structure is a shaped anodised aluminium profile measuring 60 x 44 mm, with no welding for easy maintenance and longer life
seat slats in anodised aluminium measuring 85 x 20 mm, closed at the front and back (with a minimum thickness of mm 1.5) and reinforced internally by two ribs or solid sheet HPL
bench seat formed with a PVC shaped cover available in grey, light blue and orange
joint in grey nylon reinforced with a steel core which guarantees exceptional strength and flexibility
slats fixed with stainless steel screws
nylon side plugs to close the slats
adjustable steel feet covered in grey nylon
the aluminium used conforms to 7070 alloy in compliance with the UNI-EN 573-3 standard
Another sports equipment from category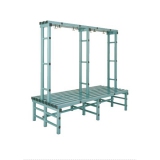 Wardrobe bench - double sided
Article:AVRE1004
Material: Durable plastic.
Dimensions: Depth: 850 mm, Top part depth: 300 mm, Height: 1800 mm, Length: from 600 to 4000 mm
Colour: Light green.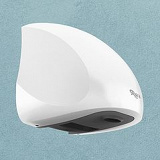 Hand dryers AVRZ1005
Article: AVRZ1005
Made in EU.
Material: Diecast aluminium Casing Cover
[Air exhaust (m3/h):] 190
[Exhaust temp. (°C):] 20
[Nominal output (Watt):] 910
[Weight (kg):] 4.4
[Dimensions (BxHxT):] 257x289x234 mm
Operating voltage 230V.
Sound level 65 dB.
Air Stream 2000 and MFLW 2 optoelectronic motion detection (range 0–40 cm).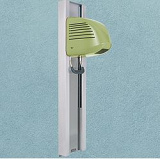 Warm-air shower AVRZ1002
Article: AVRZ1002
Made in EU.
Height adjustable without a crystal mirror
Weight (kg) 19,0
Dimensions (BxHxT)250x1210x379mm
[Operating voltage 230V/50Hz . Nominal output 2000W . HF radar technology:]
[Handsfree motion detection (range 0—30cm) . with timer:] Period 2,5 Min.