Wrestling Mats Competition UWW licensed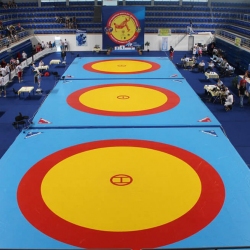 Article:

AVFD1001

Made in: EU

Material: Top: PVC

Mat core: ultra light combination from PE-foam and PU-foam

Dimensions: 12x12 m, thickness 50-60mm.

Colour: Three-colored combat surface: dark blue-orange-blue

Purpose: Competition in free style and greco-roman

Compliance with: UWW licensed
Another sports equipment from category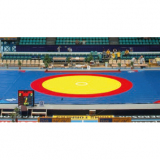 Wrestling and greek-roman wrestling mat
Article: AVSS1084
Agglomerated foam inside, vinyl covered surface, plain base, density 150 kg/mc, dimensions 200x100x5 cm. Made in EU.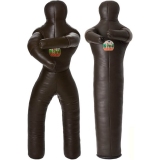 Training Dummy Leather
Article:AVFD1020
Made in: EU
Use: amateur and competitive sport, individual or with a group for all combat sports, to practice holds and bodyslams or slams over front and back.
Technical data:
cover made of strong technical cowhide, sewn precisely (approx. 1,6 mm) mono—stitched, seams not coverd filling cotton and sand.
Please note the following: Since this item is unique and intricately crafted by hand, this may entail color deviations as well as slight dimensional and/or weight variations.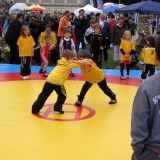 Wrestling Mats School 6x6 m
Article:AVFD1013
Made in: EU
Material: Top: PVC
Mat core: ultra light combination from PE—foam and PU—foam.
Dimensions: 6x6 m, thickness 50—60mm.
Colour: Single coloured: yellow or blue.
Three coloured: yellow—red—blue; yellow—red—yellow.
Purpose: School training activitites.
Compliance with: No paint or glue used. Easy to carry and to set up.