Wrestling Mats Competition UWW licensed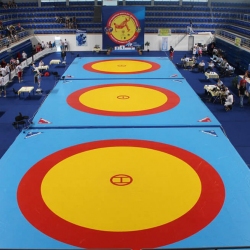 Article:

AVFD1001

Made in: EU

Material: Top: PVC

Mat core: ultra light combination from PE-foam and PU-foam

Dimensions: 12x12 m, thickness 50-60mm.

Colour: Three-colored combat surface: dark blue-orange-blue

Purpose: Competition in free style and greco-roman

Compliance with: UWW licensed
Another sports equipment from category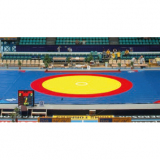 Wrestling and greek-roman wrestling mat
Article: AVSS1084
Agglomerated foam inside, vinyl covered surface, plain base, density 150 kg/mc, dimensions 200x100x5 cm. Made in EU.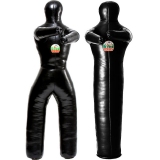 Training Dummy Synthetic
Article:AVFD1019
Made in: EU
Use: amateur sport, training of children and adolescents for all combat sports. for the exercise of throwing and turning movements, clamping methods and boxing blows.
Technical data:
cover made of extremely sturdy and durable vinyl stain—resistant black color, properly and permanently sewn, mono—stitched, seams not coverd filling cotton and sand.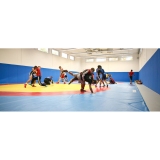 Wrestling Mats Team 7x7 m
Article:AVFD1006
Made in: EU
Material: Top: PVC
Mat core: ultra light combination from PE—foam and PU—foam
Dimensions: 7x7 m, thickness 50—60mm.
Colour: Single coloured: yellow or blue
Three coloured: yellow—red—blue; yellow—red—yellow; dark blue—orange—blue
Purpose: Training activities
Compliance with: All common types of fixations (velcro closure, flap—down edges) are available.