Monoblock seat with medium-height backrest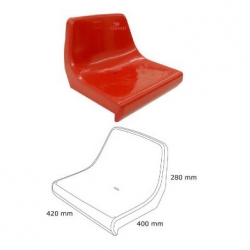 Article: AVDP1004
Dimensions: Width — 420 mm, Depth — 400 mm, Height — 280 mm
Colour: White, Yellow, Red, Green, Blue, Grey + customized colours
Made in: EU
Material: High quality copolymer polypropylene.
Installation options:
INDIVIDUAL
- Directly on step.
- Floor mounted: on metallic brackets.
- Riser mounted: on metallic brackets or PP-Fibreglass brackets.
COLLECTIVE
- On benches fixed or mobile.
Light resistance: Additive anti-UV, UNE EN 13200/4.
Resistance to severe public use (vandalism) : UNE EN 12727:01- Aidima certificates are available.
Fire resistant: As a general standard, all of the seats are produced with fire restriction additives, as required by the M-4 norm. We can produce them up to the M-2 norm.
Another sports equipment from category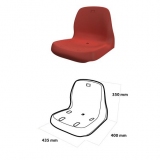 Monoblock seat with high backrest
Article:AVDP1009
Dimensions: Width — 435 mm, Depth — 400 mm, Height — 350 mm
Colour: White, Yellow, Red, Green, Blue, Grey + customized colours
Аccording with UEFA /FIFA recommendations.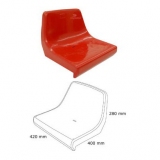 Monoblock seat with medium-height backrest
Article:AVDP1004
Dimensions: Width — 420 mm, Depth — 400 mm, Height — 280 mm
Colour: White, Yellow, Red, Green, Blue, Grey + customized colours