IAAF steel hammer. IAAF certificate.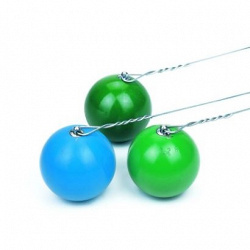 Article: AVDM1121
Weight: 4 kg.
Diameter: 95 mm.
Shell in turned steel, well balanced, weight controlled. Plated steel cable mounted on a swivel. Damage proof competition handle. Made in EU.
Another sports equipment from category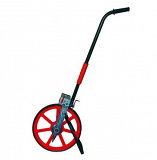 Distance measuring wheel
Article: AVDM1175
Larged numbered counter in the middle for better balance.
Easy resetting to zero. Backward measuring. Foot brake.
[Foldable sleeve. Support leg. Capacity:] 10km.
1 metre wheel circumference, ?318 mm.
Weight: 2.1 kg.
Delivered with a transportation bag.
Made in EU.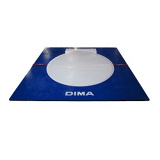 Basic portable shot put throwing platform with integrated toeboard
Article: AVDM1117
Overall dimensions: 3.10 x 3.06 x 0.04m.
Ideal for indoors.
This platform consists of an approved shot circle (2.135m diameter) with the interior made of 22mm thick CTBX plywood, covered with a special paint mixed with sand for a better grip. The circle is mounted on a CTBX plywood platform.
Perfectly stable, this platform consists of two sections assembled for quick fixing.
Made in EU.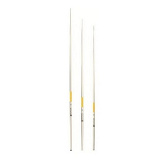 IAAF competition javelin. IAAF certificate.
Article: AVDM1162
Weight: 800 g.
Well made for major competitions. Streamlined and balanced, coloured string handle and steel head.
Made in EU.