Competition indoor shot put throwing cage. IAAF certificate.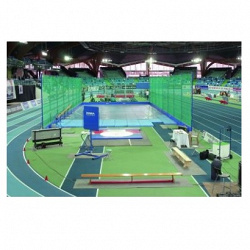 Article:

AVDM1120

Compliant with IAAF rule n°221.

Total height of the protection barrier: 4 meters

Complete set: Protective netting and stop barriers.

To adapt to your specific needs, manufacturer custom makes your own indoor shot put throwing cage at your measurements.

This indoor throwing cage model is used for many National, International championships and Meetings. This structure is required to stop a shot, whether in flight or bouncing therefore ensuring the safety of spectators, officials and athletes. Made in EU.
Another sports equipment from category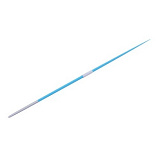 Master 700 Flex 7.4. IAAF certificate.
Article: AVNO0021
Weight: 700 g.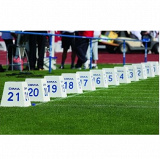 Short throwing distance marker box
Article: AVDM1176
The short throwing distance marker box to be placed on throwing distance marks for shot. Essential for spectators to visualise performance.
Light and stackable, manufactured in wear resistant polyester, colour impregnated.
Made in EU.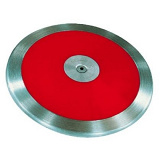 IAAF discus. IAAF certificate.
Article: AVDM1146
Weight: 1,5 kg.
Color: Red.
Discus having 75% of its weight concentrated in its steel rim.
High resistant ABS sideplate. Made in EU.