Competition indoor shot put throwing cage. IAAF certificate.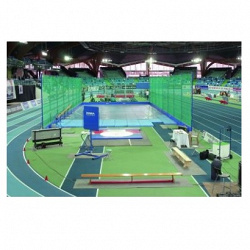 Article:

AVDM1120

Compliant with IAAF rule n°221.

Total height of the protection barrier: 4 meters

Complete set: Protective netting and stop barriers.

To adapt to your specific needs, manufacturer custom makes your own indoor shot put throwing cage at your measurements.

This indoor throwing cage model is used for many National, International championships and Meetings. This structure is required to stop a shot, whether in flight or bouncing therefore ensuring the safety of spectators, officials and athletes. Made in EU.
Another sports equipment from category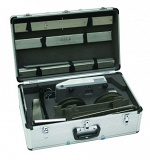 IAAF implement certification kit
Article: AVDM1154
IAAF compliant.
This implement certification kit assures that each implement meets specifications (discus, javelin, shot, hammer).
Each gauge is laser cut stainless steel for extreme accuracy and permanency.
Implement scale included.
European plug adaptater not included.
Made in EU.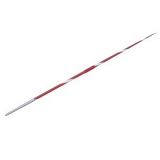 Airglider Steel Flex 6.1.IAAF certificate.
Article: AVNO0004
Weight: 800 g.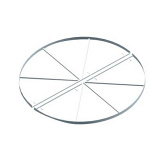 Reinforced shot / hammer circle comprising with cross bracing. IAAF certificate.
Article: AVDM1104
Reinforced shot/hammer circle comprising two sections in painted steel with welded bracing. They bolt together to maintain shape during in—ground installation, therefore ensuring an approved diameter of 2.135 m.
Height of the circle: 70mm
[IAAF approved — Certificate n°:] E—99—0094.
Made in EU.