Competition indoor shot put throwing cage. IAAF certificate.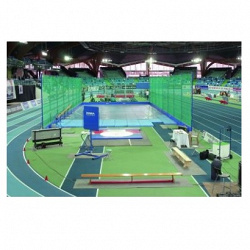 Article: AVDM1120
Compliant with IAAF rule n°221.
Total height of the protection barrier: 4 meters
Complete set: Protective netting and stop barriers.
To adapt to your specific needs, manufacturer custom makes your own indoor shot put throwing cage at your measurements.
This indoor throwing cage model is used for many National, International championships and Meetings. This structure is required to stop a shot, whether in flight or bouncing therefore ensuring the safety of spectators, officials and athletes. Made in EU.
Another sports equipment from category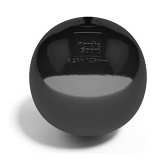 Shot Olympic Super. IAAF certificate.
Article: AVNO0082
Weight: 7.26kg.
Diameter: 125 mm.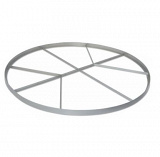 Discus circle with cross bracing
Article: AVDM1110
IAAF. approved — Certificate n° E—99—0095.
Reinforced discus circle comprising two sections in painted steel with welded bracing. They bolt together to maintain shape during in—ground installation, therefore ensuring an approved diameter of 2.50 m.
Height of the circle: 50mm
Made in EU.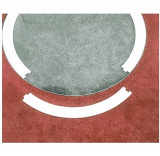 Hammer conversion circle
Article: AVDM1100
This hammer conversion circle allows to convert a discus ring into a hammer ring.
Made from wood, with interlocking sections. Made in EU.