Shot put throwing landing system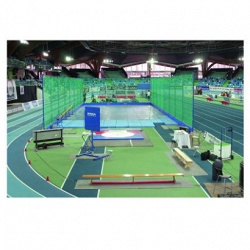 Article:

AVDM1112

[Dimensions of 1 mat:] 1.48x0.98x0,1 m.

Density: 140kg/sqm.

Non-bouncy agglomerated molded memory foam.

This shot put throwing landing system is widely used in National and International indoor championships and Meetings. IAAF Approved. Made in EU.
Another sports equipment from category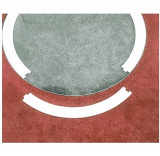 Hammer conversion circle
Article: AVDM1100
This hammer conversion circle allows to convert a discus ring into a hammer ring.
Made from wood, with interlocking sections. Made in EU.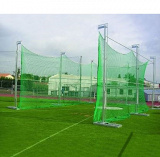 Portable galvanized steel discus cage
Article: AVDM1107
Level: 2
IAAF compliant.
Poles are mounted on heavy bases, weighted down by counterweights (supplied) and joined together by a double—raw of adjustable crosspieces (high and low), guaranteeing the stability of the cage.
Nets (in rot—proof braided 4mm diameter polypropylene, 40x40mm mesch, high resistance, black, EN—1263—1 certified, delivered with test mesh) are mounted "floating" in order to avoid any "danger of ricochet or rebound towards the athlete and over the cage" according to IAAF rules. Easy raising and lowering of the net using nylon rollers. Delivered with sleeves and nets. Made in EU.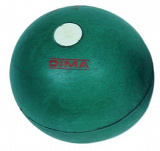 Indoor rubber shot
Article: AVDM1136
Level: 3
Weight: 2 kg.
These rubber shots are designed especially for intensive use in schools or clubs. Specifically designed for throwing indoors and on a hard surface. Colored marks per weight. Made in EU.