IAAF aluminum hammer cage with ground sleeves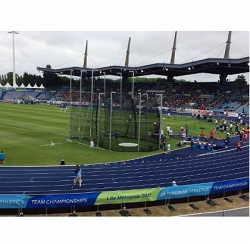 Article:

AVDM1099

IAAF Approved and certified n° E-99-0090.

Poles are made of anodised aluminum, using an oval extruded high resistant alloy.

Every aluminum pole is reinforced by an interior collar casing up to a height of 2.40m, thereby avoiding any breaking point.

Nets (in rot-proof braided 5mm diameter polypropylene, 40x40mm mesch, high resistance, black, EN-1263-1 certified, delivered with test mesh) are mounted "floating" in order to avoid any "danger of ricochet or rebound towards the athlete and over the cage" according to IAAF rules. Easy raising and lowering of the net using nylon rollers. Delivered with sleeves and nets. Made in EU.

I.A.A.F aluminum hammer cage with ground sleeves
Another sports equipment from category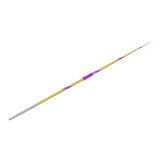 Eagle Flex 6.1. IAAF certificate.
Article: AVNO0019
Weight: 600 g.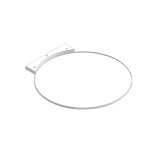 Portable shot put throwing circle with integrated toeboard
Article: AVDM1118
Ideal for indoors.
This platform consists of an approved shot circle (2.135m diameter) with the interior made of 22mm thick CTBX plywood, covered with a special paint mixed with sand for a better grip. Made in EU.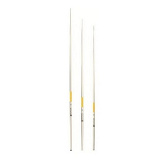 IAAF competition javelin. IAAF certificate.
Article: AVDM1162
Weight: 800 g.
Well made for major competitions. Streamlined and balanced, coloured string handle and steel head.
Made in EU.