European Championship Aluminum Prestige hurdle. IAAF certificate.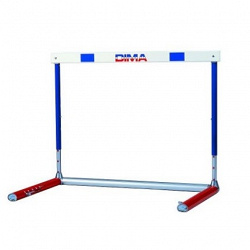 Article:

AVDM1068

Hurdle construction made from aluminium, PVC lath.

Adjustable heights: 76 - 84 - 91 - 99 - 106 cm.

Colour: Blue, red, grey

Compliance with: I.A.A.F certified n° E-99-0087.

Excellent quality and exceptional design. Very easy to maintain and to use.
Ergonomic aluminum handle for height adjustment at the touch of a button.
Ergonomic button for easy handling when moving the counterweight along the metric scale.
Ovoid profile with 3-way aluminum connection elements.
Made in EU.
Another sports equipment from category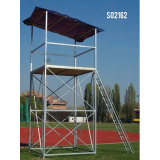 Photo finish stand
Article:AVSS1571
Hot galvanized steel structure. Wooden floor for operator thickness 5 cm. Complete with access stairs and protective PVC sheeting. Dismountable model. Made in EU.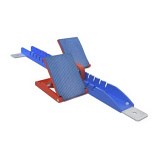 Starting Block Elite. IAAF certificate.
Article: AVNO0051
A top class block with wider pedals. Rubber faced pedals made of aluminium. Rail made of aluminium profile. Made in EU.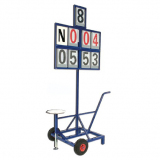 Field event scoreboard
Article:AVSS1148
With eight figures, manual operating, mobile.