European Championship Aluminum Prestige hurdle. IAAF certificate.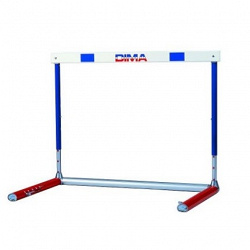 Article:

AVDM1068

Hurdle construction made from aluminium, PVC lath.

Adjustable heights: 76 - 84 - 91 - 99 - 106 cm.

Colour: Blue, red, grey

Compliance with: I.A.A.F certified n° E-99-0087.

Excellent quality and exceptional design. Very easy to maintain and to use.
Ergonomic aluminum handle for height adjustment at the touch of a button.
Ergonomic button for easy handling when moving the counterweight along the metric scale.
Ovoid profile with 3-way aluminum connection elements.
Made in EU.
Another sports equipment from category
Baby hurdle set of 3
Article: AVDM1197
These baby hurdles are perfectly suitable for athletic's schools and track work.
Made of lacquered tubular steel with adjustable heights by flipping over the hurdle : 25—30—35—40—45—50—55 et 60cm.
Width: 60cm.
Hurdles board fixed with magnets for increased safety and less apprehension.
Made in EU.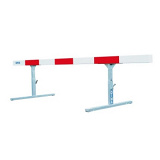 Steeplechase barrier 4 m.IAAF certificate.
Article: AVDM1076
Adjustable barrier height to 76 and 91 cm.
Compliance with: I.A.A.F certified n° E—99—0084.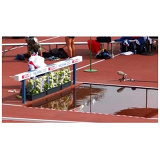 Steeplechase Water Pit. IAAF certificate.
Article: AVNO0057
Under structure of powder coated steel with hurdle bar of strong wood. For concrete embedment. Length 366 cm. Adjustable height. Made in EU.