Interclub modular high jump landing system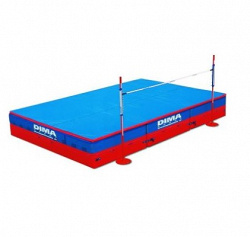 Article: AVDM1039
Dimensions: 6.00 X 3.00 X 0.70 M
Colour: Blue, red
Level: F.F.A / I.A.A.F LEVEL 1
Compliance with: NF EN 12503—2 type 10 certified.
Additional upper mat-cover.
Each block is equipped with sturdy carry handles.
The upper mat is 7 cm thick with a cover made of material that protects from studded shoes.
The block filler is made of polyurethane foam with a density of 24 kg / m³.
Each block has its own cover.
Blocks, mats connected by belts.
Made in EU.
Another sports equipment from category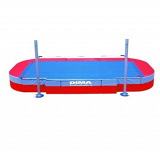 Concept III high jump landing system. IAAF certificate.
Article: AVDM1044
Dimensions: 8.00 X 4.25 / 4.00 X 0.77 M
Colour: Blue, red
Level: F.F.A / I.A.A.F LEVEL 2
Compliance with: NF EN 12503—2 type 10 certified.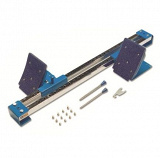 Physical Education Starting blocks
Article: AVDM1085
Colour: Grey, blue.
Fast and easy adjustment. Lightweight model with a double bar center rail for multiple adjustments. Blocks made of aluminium and has PVC pads.
Delivered with spikes and pins to hold the starting block on synthetic or cinder track. Made in EU.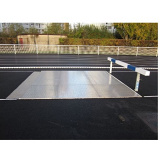 Steeplechase water jump cover
Article: AVDM1081
For a 50 to 70 cm deep water jump system.
Colour: Grey.