Concept iv modular pole vault landing system. IAAF certificate.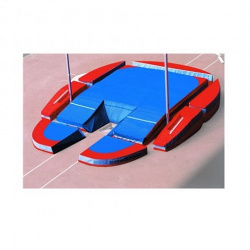 Article:

AVDM1015

Dimensions: 9.50 X 6.20 X 0.87 / 0.37 m

Colour: Red, blue

Level: F.F.A / I.A.A.F LEVEL 2

Compliance with: I.A.A.F N° E-99-0075 certified. NF EN 12503-2 type 11 certified.

The blocks and the upper mat are covered with weather-resistant synthetic material, the upper side of which is covered with a mesh to protect against studded shoes.
The upper mat is 7 cm thick with a cover made of material that protects from studded shoes.
The block filler is made of polyurethane foam with a density of 24 kg / m³.
Metric marking to adjust the position of uprights.
Blocks, mats connected by belts.
Rounded font extensions 320 cm.
Made in EU.
Another sports equipment from category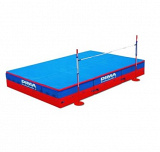 Interclub modular high jump landing system
Article: AVDM1039
Dimensions: 6.00 X 3.00 X 0.70 M
Colour: Blue, red
Level: F.F.A / I.A.A.F LEVEL 1
Compliance with: NF EN 12503—2 type 10 certified.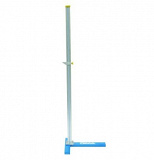 Interclub high jump standards
Article: AVDM1049
Heights from 0.15 to 2.00 m.
Colour: Blue, grey, yellow.
Additional: Uprights in anodised aluminum on a heavy steel base. Made in EU.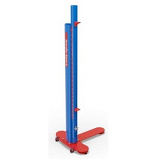 Telescopic High Jump Standards Elite. IAAF certificate.
Article: AVNO0042
Telescopic IAAF certified high jump standard for competition use. Adjustable height from 60 cm to 260 cm.