Club modular pole vault landing system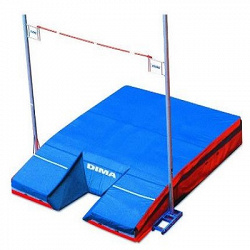 Article:

AVDM1002

Dimensions: 6.30 x 5.00 x 0.80/0.50 м

Colour: Red, blue

Level: Training/club usage

NF EN 12503-2 type 11 certified

The blocks and the upper mat are covered with weather-resistant synthetic material, the upper side of which is covered with a mesh to protect against studded shoes.
The upper mat is 7 cm thick with a cover made of material that protects from studded shoes.
The block filler is made of polyurethane foam with a density of 24 kg / m³.
Blocks, mats connected by belts.
Font extensions 130 cm.
Made in EU.
Another sports equipment from category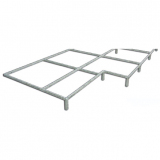 Support platform to raise the landing area
Article:AVSS1437
Galvanized steel structure complete with floor pads. Dimensions in accordance to landing area's dimensions. Price at square mt. Made in EU.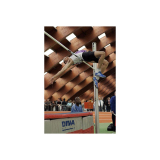 High jump crossbar
Article: AVDM1211
Length: 4 m.
High jump crossbar made from coiled fibreglass, solid, lightweight and fitted with semi—circular ends. Made in EU.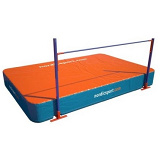 High Jump Pit Super 4.0 Monocube. IAAF certificate.
Article: AVNO0035
Landing pit with one PVC cover, size 600x400x70cm.