Power disk kit B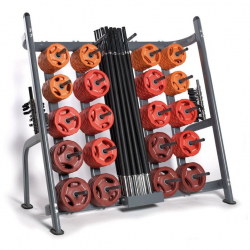 Article:

AVAF1004

Dimensions: 153 x 145 x 102 cm

Capacity: 30 sets

The set consists of:

- 2 Orange disks of 1.25 kg

- 2 Red disks of 2.5 kg

- 2 Maroon disks of 5 kg

- 1 Bar of 140 x ø 3 cm and 2.8 kg

- 2 Clamps of ø 3 cm

Color rack: Grey

Made in: EU
Rack made of oval steel tube suitable for storing Power Disks.
12-sided design to avoid ground rolling.
3 holes for easy and secure grip.
Soft and comfortable foam coated bar, 3 mm thick, providing
more load capacity
The PVC central ring facilitates the introduction of disks
through the bar, while preventing wear.
Colour-coded for easy weight identification.
Another sports equipment from category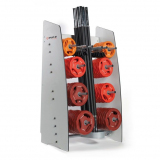 Power disk kit C
Article: AVAF1005
Dimensions: 91,5 x 131,7 x 50 cm
Capacity: 10 sets
The set consists of:
— 2 Orange disks of 1.25 kg
— 2 Red disks of 2.5 kg
— 2 Maroon disks of 5 kg
— 1 Bar of 140 x ø 3 cm and 2.8 kg
— 2 Clamps of ø 3 cm
Color rack: grey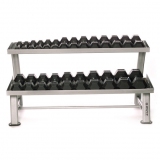 Dumbbells horizontal rack
Article: AVAF1067
Dimensions: 150 x 83 x 63 cm
Color: grey
Capacity: From 4 to 7 pairs per tray (depending on weight)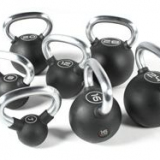 Rubber kettlebells, 16 kg
Article: AVAF1129
Weight: 16 kg