OMEGA CALYPSO Shot clocks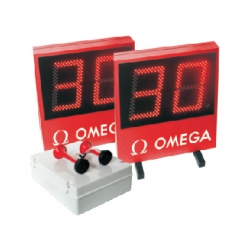 Article:

3403.951.CA

Manufacturer: Swiss Timing (Switzerland)

Category: Scoring and Timing systems component

Model: Shot clock Omega Calypso

Specifications:

Dimensions : 50 x 35 x 53 cm

Weight : 5.8 kg

Digits height : 24 cm

Power supply : 24 VDC (Power + Horn module)

Power consumption : 30 VA (max)

Operating temperature : -10 to +50°C

Storage temperature : -20 to +80°C

3403.950.CA - Kit of 2 Shot clocks

3403.951.CA - Kit of 4 Shot clocks

General Description:
Proposed by the Swiss company "Swiss Timing" Scoring and Timing system for water polo its functions and a complete set to a large extent depend on the configuration sports arena in which they are installed, and the level of sporting activities to be conducted with it. If you need to present the system of judging and timing - refer to our managers. They will help you decide on the necessary equipment and will answer all your questions about options, costs, delivery dates, etc. of the system.
Another sports equipment from category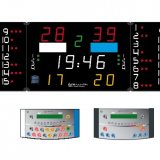 Waterpolo scoreboard 452 PB 3020
Article:AVSR1051
Dimensions: 3000 x 1000 x 90 mm
Weight: 50 Kg
Digit height: 20 and 16 cm
Distance of readability: 90 m
Angle of readability: 160°
Display: LEDs (SMD)
Horn (116dB at 1m)
Power supply/consumed: 230V/50—60Hz / 160VA
Team names and Player numbers: white and blue stickers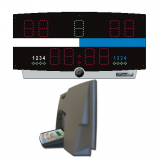 Waterpolo scorebaord W-TOP Battery (PORTABLE)
Article:AVSR1055
Dimensions: 730 x 370 x 110 mm
Readability: 35 m, angle view: 160 °
Max digits height: 9 cm
Weight: 5,5 kg
Power supply: Integrated Built—in lead—acid batteries 2 x 6V 4,5Ah (about 20 hours capacity)
Team indication: white and blue stickers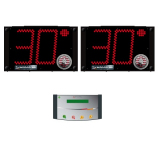 SC30 Waterpolo scorebaord Radio Battery Autonom
Article:AVSR1056
Use: Indoor
Transmission: Radio (868 MHz)
Readability: 130m, angle >160°
Dimensions: 500 x 300 x 65 mm
Weight: 4 kg per unit
Power supply: Built—in lead—acid batteries 12V 2,3Ah
Protection: Unbreakable mat polycarbonate front face
Integrated Horn : 115dB at 1m