Sports equipment for rowing channels
---
---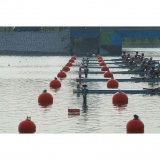 Made in: EU

Category: Main equipment for rowing channels

Technicals Features:
— Gate alignment accuracy on the start line: within 5 mm
— Gate movement speed: 2,8 m / sec
— Gate submerging time: 0,1 sec
— Gate return to start position time: 5 sec
— Gate return position accuracy: 0,5 mm
— Maximum start frequency: 10 starts / minute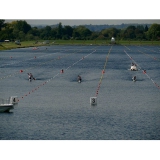 Made in: EU

Category: Main equipment for rowing channels

Technicals Features:
— Always adopted to local circumstances by our skilled engineer staff
— Installation is simple, we optimize the underwater and shore works according to customer needs
— The course can be converterd within a few hours, which makes it possible to organize canoe—kayak and rowing races right after each other
— Compatible with the Polaritas Starting System
— Beside the "turn—key" delivery and installation, we provide full technical support, including the training of local staff and a wide range of after—sale services.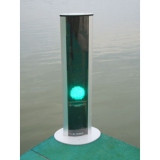 Made in: EU

Category: Main equipment for rowing channels

Technicals Features:
Technological innovation is important in today's modern rowing sport. Our automatic start system has become a standard on major regattas and there is an increasing demand for start light systems, which can complement or replace the traditional flag and command word method. Our professional RowLux system provides visual and acoustic signals to maximally support the judges in the conduction of the complex start procedure. It makes the communication between the athletes and judges straightforward in the start—zone and gives as equal chances for each boat as possible.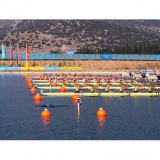 Made in: EU

Category: Main equipment for rowing channels

Technicals Features:
StartVideo is the recommended tool for evaluating events at the rowing or canoeing start line. Using a touch panel computer with a camera on the start line, the StartVideo system helps the starter judges in the evaluation of false starts.

Within a few seconds after the start, the starter judges can easily observe the events by the instant playback of the recorded video clip. By the use of the touch monitor, the video clips can be played forward or reverse, slow motion or even frame—by—frame. Using this interactive tool, the starter has the opportunity to make a quick decision about the start event and can stop the race if necessary. The recorded video clips are stored on a hard drive, ordered by heat number and marked as good or false start. The system can also be used in VCR mode, which records the start line evetns continuously, just like a conventional video recorder.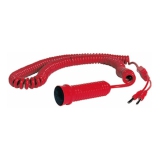 Manufacturer: Swiss Timing
Model: OIT3
Category: Refereeing and timing systems

Specifications:
— The length of the spiral cable 3 meters;
— In the free position is open button;
— Connectors such as "banana"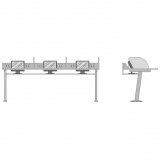 Made in: EU
Model: COMMENTATORS TABLE
Category: Furniture and equipment for additional space

Technicals Features:
3—seater radio/TV commentary station with fi xed wooden top, dimen— sionally complying with the recommendations of FIFA / UEFA / FIBA. Simple design, clean and elegant, extremely functional thanks to the monitor as well as the wooden partition wall and the power supply/ telephone and data connections at each desk. Ideal the combination with 3 individual swivel seats M2007.


OVERALL DIMENSIONS
Depth 700/800 mm; 3 seater station width 2100 mm; center—to— center distance 700 mm.
MATERIAL
Metallic structure with cataphoresis fi nishing and epoxy powder coating grey RAL9006; wooden top, monitor support board and partition wall or metal.
INSTALLATION
Directly on concrete step, clamped onto a metal beam 2—3—4 seats, on single swivel pedestal.
FIXING
4 fi xing points directly on concrete step.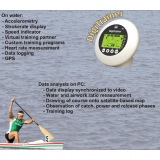 Made in: EU
Model: DigiTrainer
Type: Trainers for rowers

DigiTrainer is a new innovative product incorporating the latest state—of—the—art technologies in order to measure performance and technique of kayak, canoe, and rowing athletes. It contains a GPS, heart rate monitor, and an accelerometer which can measure the movement of the boat in all directions. From the data collected, parameters such as stroke rate, stroke power, boat stability, speed, distance, and coresponding heart rate can easily be observed. Most of this information is also displayed in real time on the instrument, helping the athletes improve their technique and performance during training.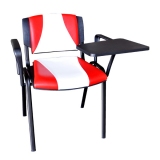 Made in: EU
Model: SIGMA
Category: Furniture and equipment for additional space

Technicals Features:
The SIGMA chair is the classic Conference chair: comfortable (thanks to its upholstered panels covered with imitation leather for seat and back), light to carry, operational (equipped with folding arm prearranged for writing tablet to provide maximum comfort when taking notes).

OVERALL DIMENSIONS
Depth with folded seat 600mm; depth with open seat 670 mm; center—to—center distance with armrest in common 540—560 mm.
MATERIAL
5 stars base and metal gas lift; polypropilene seat/back covers and headrest; polyurethane filling, covering in imitation leather
INSTALLATION
Directly onto the concrete step.
FIXING
3 or 4 fixing points.
DRAINAGE
Drainage by gravity with folded seat.
ACCESSORIES
Logo and Sponsor can be eventually sewed on the back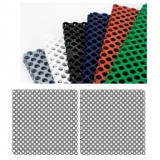 Made in: EU
Model: Solkit
Category: Equipment for locker rooms, floorings

Technicals Features:
Meticulously produced using high—density virgin polyethylene, this top quality material allows us to offer a 10—year warranty under normal usage conditions. We offer two different options —either high—density PE (more rigid) or low—density PE (more flexible)— and a wide range of colours to address a host of different needs.

Dimensions: 50 x 50 x 2 cm.

Weight: 1.10 kg per tile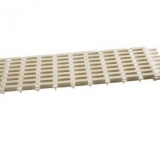 Made in: EU
Model: TF—80
Category: Eguipment for locker rooms, floorings

Technicals Features:
Recommended for covering areas that require drainage runoff, such as the edges of swimming pools, in showers and in locker rooms.

Made from high—quality polypropylene copolymer with an openwork surface of 36 x 7 mm grooves for drainage purposes.

In a rectangular shape of 120 mm wide by 485 mm long by 20 mm thick (fig. A), weighing 0.340 g per plank. There are a series of grooved "teeth" at each end (1) for locking one plank onto the next, either lengthwise or widthwise.