Sports equipment for сycle tracks
---
---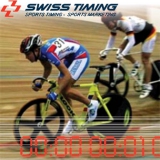 Manufacturer: Swiss Timing
Category: Scoring and Timing Systems
Specifications:
Settings and integration of this system are highly dependent on the configuration of a sports facility.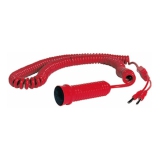 Manufacturer: Swiss Timing
Model: OIT3
Category: Refereeing and timing systems

Specifications:
— The length of the spiral cable 3 meters;
— In the free position is open button;
— Connectors such as "banana"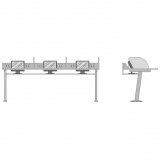 Made in: EU
Model: COMMENTATORS TABLE
Category: Furniture and equipment for additional space

Technicals Features:
3—seater radio/TV commentary station with fi xed wooden top, dimen— sionally complying with the recommendations of FIFA / UEFA / FIBA. Simple design, clean and elegant, extremely functional thanks to the monitor as well as the wooden partition wall and the power supply/ telephone and data connections at each desk. Ideal the combination with 3 individual swivel seats M2007.


OVERALL DIMENSIONS
Depth 700/800 mm; 3 seater station width 2100 mm; center—to— center distance 700 mm.
MATERIAL
Metallic structure with cataphoresis fi nishing and epoxy powder coating grey RAL9006; wooden top, monitor support board and partition wall or metal.
INSTALLATION
Directly on concrete step, clamped onto a metal beam 2—3—4 seats, on single swivel pedestal.
FIXING
4 fi xing points directly on concrete step.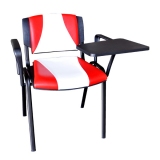 Made in: EU
Model: SIGMA
Category: Furniture and equipment for additional space

Technicals Features:
The SIGMA chair is the classic Conference chair: comfortable (thanks to its upholstered panels covered with imitation leather for seat and back), light to carry, operational (equipped with folding arm prearranged for writing tablet to provide maximum comfort when taking notes).

OVERALL DIMENSIONS
Depth with folded seat 600mm; depth with open seat 670 mm; center—to—center distance with armrest in common 540—560 mm.
MATERIAL
5 stars base and metal gas lift; polypropilene seat/back covers and headrest; polyurethane filling, covering in imitation leather
INSTALLATION
Directly onto the concrete step.
FIXING
3 or 4 fixing points.
DRAINAGE
Drainage by gravity with folded seat.
ACCESSORIES
Logo and Sponsor can be eventually sewed on the back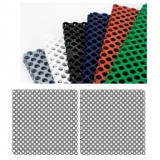 Made in: EU
Model: Solkit
Category: Equipment for locker rooms, floorings

Technicals Features:
Meticulously produced using high—density virgin polyethylene, this top quality material allows us to offer a 10—year warranty under normal usage conditions. We offer two different options —either high—density PE (more rigid) or low—density PE (more flexible)— and a wide range of colours to address a host of different needs.

Dimensions: 50 x 50 x 2 cm.

Weight: 1.10 kg per tile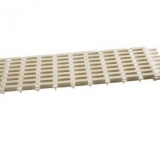 Made in: EU
Model: TF—80
Category: Eguipment for locker rooms, floorings

Technicals Features:
Recommended for covering areas that require drainage runoff, such as the edges of swimming pools, in showers and in locker rooms.

Made from high—quality polypropylene copolymer with an openwork surface of 36 x 7 mm grooves for drainage purposes.

In a rectangular shape of 120 mm wide by 485 mm long by 20 mm thick (fig. A), weighing 0.340 g per plank. There are a series of grooved "teeth" at each end (1) for locking one plank onto the next, either lengthwise or widthwise.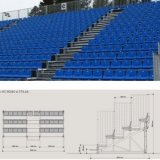 Made in: EU
Model: HC80—40
Category: Tribune, seats

Technicals Features:
Dismountable metallic bleacher, recommended for temporal or permanent installations outdoor or indoor. Recommended for events with large audience capacity. Its inclination optimizes the wiewing angle of the spectator. Very solid bleacher according to Spanish and European regulations.

Metallic structure (frame, pillars, safety railings and trussers) made of steel profiles cold laminated S275, hot galvanised at 450 ºC. Platforms and stairs of polypropylene frame, anti—slippery with slots, easy cleaning.
All bleachers have safety railings and a base at the pillars with adjustable height, in order to compensate differences in floor level of up to 200 mm.

Stairs modules have an additional step to facilitate the access to the bleacher.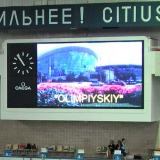 Manufacturer: Swiss Timing
Model: NOVA
Category: video scoreboard
The scoreboard consists of modules and can be of different sizes
Specifications:
Use :Outdoor Indoor
Power consumption (max.) : 540 VA 504 VA
Power consumption (aver.) : 162 VA 151 VA
Weight : 34 kg 33 kg
Life expectancy : 70'000 hours
Common specifications:
Module size: 960 x 720 x 150 mm
Colour set: RGB, 68 billion colours, 12 bit/colour, refresh rate 240 Hz
Viewing angle: 60° (vertical); 140° (horizontal)
Operating temperature : +5 to +30°C
Storage temperature : —20 to +40°C
Protection : 54 / 65 (outdoor); 21 / 54 (indoor)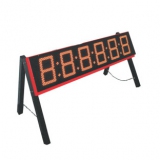 Manufacturer: Swiss Timing
Model: Gemini 6 digits
Category: Refereeing and timing system

Specifications:
Dimensions : 1460 x 340 x 94 mm
Weight : 10.2 kg
Display mode : 6 numeric (7 segments) dot & semicolon separator
Height of digits : 240 mm
Display type : 150 amber LEDs per digit
Viewing distance : up to 120 m
Horiz. viewing angle : 110°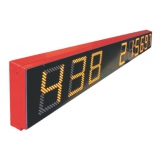 Manufacturer: Swiss Timing
Model: Gemini 9 digits
Category: Refereeing and timing system

Specifications:
Dimensions : 2400 x 340 x 94 mm
Weight : 16 kg
Display mode : 9 numeric (7 segments)
dot & semicolon separator
Height of digits : 240 mm
Display type : 150 amber LEDs per digit
Viewing distance : up to 120 m
Horiz. viewing angle : 110°