Wrestling Competition Mats - UWW approved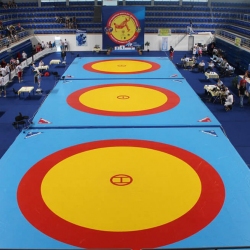 Article: wrestling—competition—mats———uww—approved
Made in: EU
Model:
Category: Equipment for martial arts
Technicals Features:
Wrestling Mats Competition UWW have the standard dimensions 12 x 12 m.
Wrestling Mat Elements of qualityS come with UWW—approval for international competition in free style and greco—roman.
Wrestling Mat Covers are completely welded, we don´t use paint or glue.
— No staining
— No joints
— No metal parts
— Very long—lived and robust
Another sports equipment from category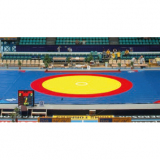 Wrestling and greek-roman wrestling mat. FILA approved.
Article:AVSS1085
Agglomerated foam inside, vinyl covered surface, anti slipping base, density 150 kg/mc, dimensions 200x100x5 cm. FILA approved. Made in EU.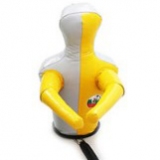 Martial Arts Training Dummy Choke Weight Category XS
Article:martial—arts—training—dummy—choke—weight—category—xs
Made in: EU
Model: Choke Weight Category XS
Category: Equipment for martial arts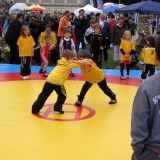 Wrestling Mats School Edition
Article:wrestling—mats—school—edition
Made in: EU
Model:
Category: Equipment for martial arts