Start Line video system for Rowing, Canoe-Kayak, Dragonboat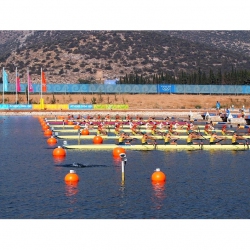 Article: start—line—video—system—for—rowing—canoe—kayak—dragonboat
Made in: EU

Category: Main equipment for rowing channels

Technicals Features:
StartVideo is the recommended tool for evaluating events at the rowing or canoeing start line. Using a touch panel computer with a camera on the start line, the StartVideo system helps the starter judges in the evaluation of false starts.

Within a few seconds after the start, the starter judges can easily observe the events by the instant playback of the recorded video clip. By the use of the touch monitor, the video clips can be played forward or reverse, slow motion or even frame—by—frame. Using this interactive tool, the starter has the opportunity to make a quick decision about the start event and can stop the race if necessary. The recorded video clips are stored on a hard drive, ordered by heat number and marked as good or false start. The system can also be used in VCR mode, which records the start line evetns continuously, just like a conventional video recorder.
Basic Features:
Live video of the start line with adjustable marker line

Works together with Polaritas Automatic Starting System

False start evaluation by immediate playback after start

Record video clips according to race number

Capture single video frames

Aids the precise alignment of the start system during installation

Constant recording of start-line events (VCR mode)

Can be used with or without an automatic start system

Aligner's View - Start gate camera system
Aligner's View is a recently developed multi-camera system which is a useful aid for the judges executing the start procedure during rowing or canoeing races.
Robust, weather proof cameras are mounted on each post of the start machine close to the start gates. The live video streams are transferred to the connected computer in the control tower where the judges can view the closeup video of each gate simultaneously. This camera system, together with the transparent start gates, gives the judges the opportunity to check whether each boat is exactly on the start line. The judges in the control tower can easily observe the events close to and inside the gates.
During the rowing start there are two phases of the start procedure when the camera system can help the judges:
Before the raising of the gates. At this time the area above the gates must be empty. The judge in the aligners' hut observes the screen and informs the control tower that the area is clear.

The gates are raised and are on the water surface. The judge observes the tips of the racing boats entering into the start gates and instructs the athletes to paddle into the correct position.
During canoeing start the procedure is similar to phase-2 of rowing.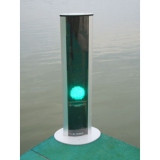 Rowing start light system RowLux for Rowing, Canoe-Kayak, Dragonboat
Article:rowing—start—light—system—rowlux—for—rowing—canoe—kayak—dragonboat
Made in: EU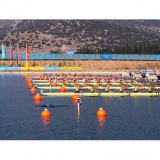 Start Line video system for Rowing, Canoe-Kayak, Dragonboat
Article:start—line—video—system—for—rowing—canoe—kayak—dragonboat
Made in: EU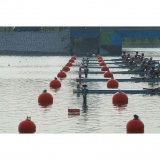 Automatic Starting System for Rowing, Canoe-Kayak, Dragonboat, certified by FISA and ICF
Article:automatic—starting—system—for—rowing—canoe—kayak—dragonboat—certified—by—fisa—and—icf
Made in: EU