Stadium tip up seats AB certificated by FIBA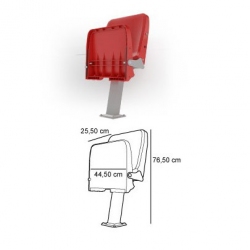 Article: stadium—tip—up—seats—ab—certificated—by—fiba
Made in: EU
Model: AB
Category: Tribune, seats

Technicals Features:
Tip up seat, designed for all kinds of usage (conventional bleachers, metallic and retractable bleachers, benches, etc, for sport facilities, VIP boxes, buildings that stage public shows, amphitheatres, auditoriums, etc.).

The seat tips up either by counterweight or by spring action, through the optional track limitator.
Reinforcement beams in the swinging conjoint are manufactured by the injection of a material formed of polymeric matrix reinforced with fibreglass, which brings resistance and comfort to the end product.

Chasis in steel profiles cold laminated S275, hot galvanised or cataphoretic coating, optional, oven painted.
Light resistance: Additive anti-UV, UNE EN 13200/4.
Resistance to severe public use (vandalism): UNE EN 12727:01- Adima certificates are available.
Fire resistant: As a general standard, all of the seats are produced with fire restriction additives, as required by the M-4 norm. We can produce them up to the M-2 norm.
Installation options:
INDIVIDUAL
Floor mounted.

Riser mounted.

Folding bracket for retractable bleacher.
COLLECTIVE
On benches floor mounted.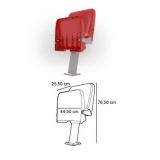 Stadium tip up seats AB certificated by FIBA
Article:stadium—tip—up—seats—ab—certificated—by—fiba
Made in: EU
Model: AB
Category: Tribune, seats