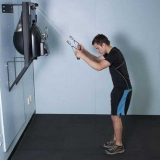 Article: AVVS1005
Unlike Vasa SwimErgometer, this model is equipped only with a biokinetic block with a set of fasteners to the wall for installation at any height.
The modification that is most suitable for training skiers.
As standard:
— Handles for strength exercises — 1 pair.
— Biokinetic block — 1 pc.
— Monitor Power Meter — 1 pc.
— Console mounting system to the wall — 1 set.