Pole vault competition landing area Spikeflex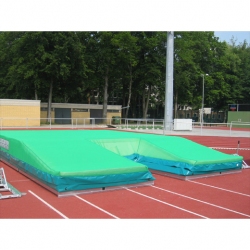 Article: pole—vault—competition—landing—area—spikeflex
Made in: EU
Model: Spikeflex

Category: Main athletics equipment

Technicals Features:
— Original "Spike Flex" — mesh protective fabric, spike securely over the entire landing area, including the wedge cushion and processed sides, ensures optimum air circulation.
Incorporated Schleißmatte.
— With separate intermediate bottom and Velcro system (B) or synthetic covers and Velcro system (C).
— Two—piece overall relation with reinforced vault box area and weatherproof compact — quick—release fasteners.
— According to the competition rules with a projecting security zone or deeper neckline on vault box.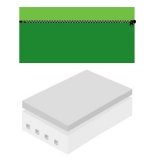 High jump competition landing mats SpikeFlex-team - IAAF approved
Article:high—jump—competition—landing—mats—spikeflex—team———iaaf—approved
Made in: EU
Model: SpikeFlex—team
Category: Main athletics equipment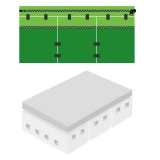 High jump competition landing mats SpikeFlex-pro - IAAF approved
Article:high—jump—competition—landing—mats—spikeflex—pro———iaaf—approved
Made in: EU
Model: SpikeFlex—pro
Category: Main athletics equipment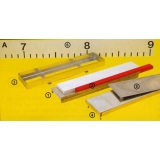 Insert Board for plasticine
Article:insert—board—for—plasticine
Made in: Germany
Model: HJ 01651
HJ 01244
HJ 05242
Category: Athletics equipment