Modular walls GF/S series for locker-rooms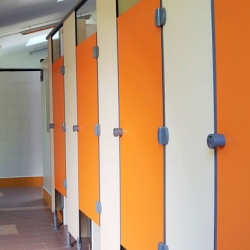 Made in: EU
Model: GF/S series
Category: Equipment for locker rooms

Technicals Features:
The GF/S modular walls combine excellent hygiene with a top design and endurance, thanks to the construction in HPL stratified plastic laminate, which is antioxidant and easy to disinfect. The lifting system and top connection in fibreglass charged nylon 6 make cleaning and maintenance easier.

The top connection is made with a "C" shaped silver anodised aluminium profile that fits in perfectly into the fronts.
Construction details:
grey co-extruded PVC stop profiles, rigid (stop side) and soft safety (hinge side)

3 self-closing and self-lubricating hinges in galvanised steel covered with grey nylon, per door

opening system with lock in moulded grey nylon with free/engaged signal block, equipped with safety door block and external emergency opening

fixing for the partition panel to the front panel and the wall by means of a primary T 60/60 anodised aluminium alloy profile

fixed to the floor by means of raised feet entirely in fibreglass charged grey nylon 6, diameter 35 mm con 12 mm adjustment screws, height 150 mm, adjustable +/- 30 mm to ensure it is perfectly level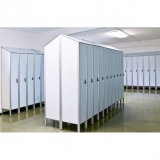 Lockers A/TI series for gyms, swimmings pools and wellness areas
Made in: EU
Model: A/TI series
Category: Equipment for locker rooms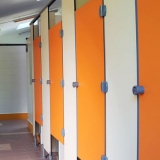 Modular walls GF/S series for locker-rooms
Made in: EU
Model: GF/S series
Category: Equipment for locker rooms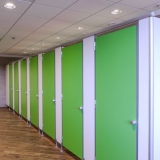 Modular walls ALGF series for locker-rooms
Made in: EU
Model: ALGF series
Category: Equipment for locker rooms