Metallic telescopic-retractable bleachers (benches) for sports T-3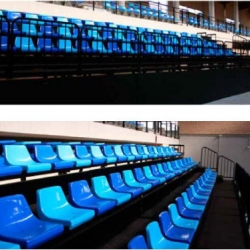 Article:metallic—telescopic—retractable—bleachers—benches—for—sports—t—3
Made in: EU
Model: T—3
Category: Tribune, seats

Technicals Features:
Depending on the event, the telescopic/retractable bleacher recommended for multipurpose installations allows either the extension or reduction of audience capacity. When the bleacher is folded, it occupies minimal space. With monoblock or tip—up seats, the metallic structure is very solid and easy to assemble. Designed according to Spanish and European regulations. Optimum audience density (2.35 people/m2).

According with the project, we adapt the bleacher to fit specific customer requirements.
The length of the modules and the row height can be modified according to specifications of
the project. The modular design of the construction makes it highly adaptable and removes the problem of limited space.

Metallic structure in cold laminated steel tube, with cataphoretic coating. Can be optionally painted.
Depending on the project request, corridors and stairs can be composed by phenolic plywood
boards, with considerable resistance to graze , aging and vandalism. It includes the side and back (or frontal) safety handrails.
Installation options:
Available from 2 rows with manual operation (from the 7th row, the motorized operation will

be necessary).

Frontal or back access.

Multiple options are available.
Seats options
Available with monoblock seats G 3, A2, CR2, as well as the tip-up seat AB with a foldable bracket or ABC model with foldable backrest.
Light Resistance: Additive anti-UV, UNE EN 13200/4.
Another sports equipment from category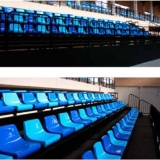 Metallic telescopic-retractable bleachers (benches) for sports T-3
Article:metallic—telescopic—retractable—bleachers—benches—for—sports—t—3
Made in: EU
Model: T—3
Category: Tribune, seats