Metallic dismountable bleachers (benches) for sports HC85-32
Article:metallic—dismountable—bleachers—benches—for—sports—hc85—32
Made in: EU
Model: HC85—32
Category: Tribune, seats

Technicals Features:
Dismountable metallic bleacher. Either the outside or inside installation can be fixed or temporarily fixed. This is recommended for events of great importance and large or very large audience capacity. Optimum audience density: 2,40 people/m2. Very solid bleacher according to spanish and european regulations. Easy to assemble, minimum assembly and disassembly time, no need for screws. Foldaway components means reduced storage and transit space.

Modular design

— Modules of seats: 4 people each row (2 m)
— Modules of stairs: 2 people (1,25 m)

In all modules the stands include a safety protection panel beneath each row of seats.
Rows height
Available for 3 and multiple of 3 rows (up to 21 rows), other options, please ask.
Metallic structure (frame, pillars and trusses) made of steel profiles cold laminated S275, hot
galvanised at 450 ºC. Platforms and stairs of polypropylene frame, anti-slippery with slots, easy cleaning. All bleachers have safety railings and a base at the pillars with adjustable height, in order to compensate differences in floor level of up to 200 mm.
Stair modules have an additional step to facilitate the access to the bleacher.
Dimensions
Row depth: 85 cm / Row height: 32 cm
Inclination: 38,23% (19º)
Seat height: 45 cm (from corridor)
Seat modules: 2 m long / Stairs modules: 1,25 m long
Audience density: 2,4 p/m2
Installation options:
Possibility to alternate seat modules (m) with stair modules (e), in any order, without size limit.
The recommended line disposition is for small bodies [2m-e-2m] or equivalent. Please, consult technical sheet for more information.
Manufacture options:
An additional row of seats can be optionally placed before the first row.

Frontal safety handrails.

The structure can be elevated to + 2 m.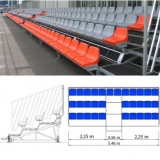 Metallic dismountable bleachers (benches) for sports HC72-25
Article:metallic—dismountable—bleachers—benches—for—sports—hc72—25
Made in: EU
Model: HC72—25
Category: Tribune, seats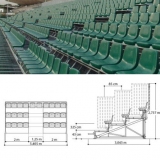 Metallic dismountable bleachers (benches) for sports HC85-32
Article:metallic—dismountable—bleachers—benches—for—sports—hc85—32
Made in: EU
Model: HC85—32
Category: Tribune, seats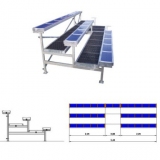 Metallic dismountable bleachers (benches) for sports HC63-20 with 3 rows
Article:metallic—dismountable—bleachers—benches—for—sports—hc63—20—with—3—rows
Made in: EU
Model: HC63—20 with 3 rows
Category: Tribune, seats