Metallic dismountable bleachers (benches) for sports HC63-20 with 3 rows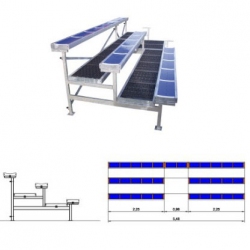 Article:metallic—dismountable—bleachers—benches—for—sports—hc63—20—with—3—rows
Made in: EU
Model: HC63—20 with 3 rows
Category: Tribune, seats

Technicals Features:
The bleacher is very easy to assemble — it takes minimal time to assemble/disassemble and there is no need for screws. Furthermore, the foldaway components ensure reduced storage and transit space.

Metallic structure (frame, pillars and trusses) made of steel profiles cold laminated S275, hot galvanised at 450 ºC.
Platforms and stairs of polypropylene frame, anti—slippery with slots, easy cleaning.

Safety handrails are not necessary due to the minimum high of the grandstand (only 54 cm height at the third row).
Seat options: Bench style seats, without backrest, moulded by injection in stabilized high quality copolymer polypropylene. Shiny surface and central drainage.
Light resistance: additive anti-UV, UNE EN 13200/4.
DIMENSIONS
Row depth: 63 cm / Row height: 20 cm

Seat height: 40 cm (from corridor)

Seat modules: 2,25 m long / Stairs modules: 0,96 m long

Audience density: 3,6 p/m2
Installation options: Possibility to alternate seat modules (m) with stair modules (e), in any order, without size limit. The recommended line disposition is (2m-e-4m...-e-4m-e-2m). For small bodies it can be (2m-e-2m) or equivalent.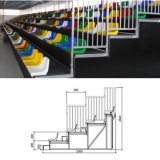 Metallic bleachers (benches) for sports TM85-40
Article:metallic—bleachers—benches—for—sports—tm85—40
Made in: EU
Model: TM85—40
Category: Tribune, seats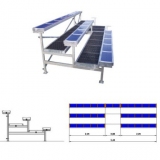 Metallic dismountable bleachers (benches) for sports HC63-20 with 3 rows
Article:metallic—dismountable—bleachers—benches—for—sports—hc63—20—with—3—rows
Made in: EU
Model: HC63—20 with 3 rows
Category: Tribune, seats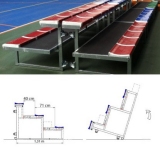 Metallic bleachers (benches) for sports T-FLEX
Article:metallic—bleachers—benches—for—sports—t—flex
Made in: EU
Model: T—FLEX
Category: Tribune, seats