Metallic bleachers (benches) for sports TM85-40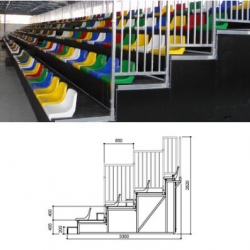 Article:metallic—bleachers—benches—for—sports—tm85—40
Made in: EU
Model: TM85—40
Category: Tribune, seats

Technicals Features:
Dismountable metallic bleacher, recommended for permanent installations outdoor or indoor. Represents an alternative to a concrete bleacher, can be supplied with risers and closed sides, giving complete security, without gaps.

Allows to install any shell seat model, even combining several models on the same platform to highlight VIP areas. Very solid bleacher according to Spanish and European regulations.

Metallic structure (frame, pillars, and trussers) made of steel profiles cold laminated S275, hot
galvanised at 450 ºC. Optional: cataphoresis plus epoxy paint treatment.
Platforms and stairs: 12 mm thick board. 100% birch plywood with phenolic film slip, weatherproof material. Color black or dark brown finish.
Risers and side panels (optional): outdoor resistant phenolic.
Modular design
Standar modules of 2,50 meters long, divided into:
Module Seating: 5 seats per row

Module seats + stairs: stairs of 1.50 meters with 2 seats per row + 3 seats at the end of the

stair.
Rows height
Available in 2, 3 and 4 rows.
All the bleachers have safety railings. Stairway modules have an additional step to facilitate access to the stands.
Important: the floor should not have more than 2% level variations, so that modules can be assembled together.
Seats options: any shell seat of catalogue. Allows combine different models of seats on the same platform. Seats made of polypropylene copolymer processed by injection molding. Shiny surface and central drainage in all shell seats.
Light resistance: additive antiUV, according to EN 13200/4.
Dimensions
Row depth: 85 cm / Row height: 40 cm
Inclination: 28% (25º)
Seat height: 45 cm (from corridor)
Seat modules: 2,50 m long
Audience density: 2,4 p/m2
Installation options:
Possibility of different configurations, placing the stairs at any module. Always keep the optimum number of stairs according to total seating capacity.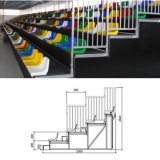 Metallic bleachers (benches) for sports TM85-40
Article:metallic—bleachers—benches—for—sports—tm85—40
Made in: EU
Model: TM85—40
Category: Tribune, seats