Metallic bleachers (benches) for sports T-FLEX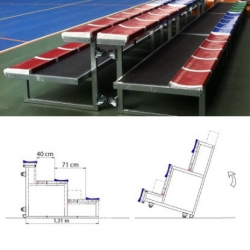 Article:metallic—bleachers—benches—for—sports—t—flex
Made in: EU
Model: T—FLEX
Category: Tribune, seats

Technicals Features:
Bleacher recommended for multipurpose installations that require an economical solution to increase the capacity in different courts, depending on the event. The modules can be moved easy and quickly using the wheels incorporated at the back side. It is only needed to lift the module and move it.

Metallic structure (frame, pillars, and trussers) made of steel profiles cold laminated S275, hot
galvanised at 450 ºC. Optional: cataphoresis plus epoxy paint treatment.

Platforms and stairs: 12mm thick board. 100% birch plywood with phenolic film slip, weatherproof material. Color black or dark brown finish.
Modular design:
Module Seating: 5 people per row (2,30 m)

Module of stairs: 2 people (0,96 m)
Rows height
Available in 2 and 3.
Important: the floor should not have more than 2% level variations, so that modules can be assembled together.
G3 seat: bench style seat, without backrest, of two parts: seat and connection bridges, to form benches without length limit. Moulded by injection in stabilized high quality copolymer polypropylene. Shiny surface. The seat is sealed around his entire perimeter to prevent dirt from accumulating inside the seats, and in turn making them easy to clean.
Light resistance: Additive antiUV, according to EN 13200/4.
Resistance to severe public use (vandalism): UNE EN 12727:01, certificated by Aidima.
Dimensions
Row depth: 71 cm / Row height: 40 cm
Inclination: 59% (31º)
Seat height: 45 cm (from corridor)
Seat modules: 2,30 m long
Audience density: 3,80 p/m2
Installation options:
Allows to combine modules with variable configuration. The modules are mutually independent bodies so that the composition can be varied at any time simply lift the module and move it according to convenience.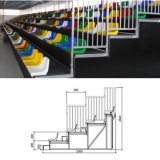 Metallic bleachers (benches) for sports TM85-40
Article:metallic—bleachers—benches—for—sports—tm85—40
Made in: EU
Model: TM85—40
Category: Tribune, seats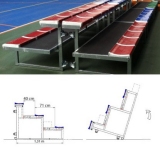 Metallic bleachers (benches) for sports T-FLEX
Article:metallic—bleachers—benches—for—sports—t—flex
Made in: EU
Model: T—FLEX
Category: Tribune, seats