Flooring tiles Tarima TF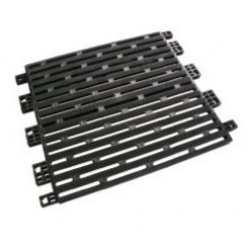 Article: flooring—tiles—tarima—tf
Made in: EU
Model: Tarima TF
Category: Floorings

Technicals Features:
This flooring is recommended for providing safe, non—slip surfaces in passageways or on staircases, once they have been inserted in metal brackets.

Made from high quality polypropylene copolymer with an openwork surface of 90 x 7 mm grooves for drainage purposes (rainwater, etc.).
In a rectangular shape of 380 mm wide by 410 mm long by 20 mm thick (fig. A), weighing 0.685 g per plank. There are a series of grooved "teeth" at each end (1) for locking one plank onto the next using intermediate bridging staples (2) equipped with harpoons that hook into the support plates of the brackets on which they are fitted, thus threading every two planks onto the brackets (fig. B).
The rough, non-slip texture of the surface offers excellent resistance to abrasion and weather-induced ageing. The flooring is resistant to vandalism thanks to its ribbed support structure. It withstands a high level of friction and is very resistant to impacts.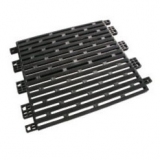 Flooring tiles Tarima TF
Article:flooring—tiles—tarima—tf
Made in: EU
Model: Tarima TF
Category: Floorings