Flooring tiles Solkit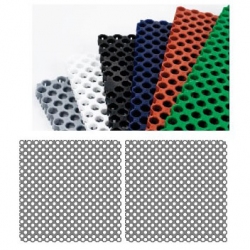 Article: flooring—tiles—solkit
Made in: EU
Model: Solkit
Category: Equipment for locker rooms, floorings

Technicals Features:
Meticulously produced using high—density virgin polyethylene, this top quality material allows us to offer a 10—year warranty under normal usage conditions. We offer two different options —either high—density PE (more rigid) or low—density PE (more flexible)— and a wide range of colours to address a host of different needs.

Dimensions: 50 x 50 x 2 cm.

Weight: 1.10 kg per tile
Assembly
The tiles lock into each other thanks to hooks at each end to allow quick, straightforward assembly.
Surface design
On-slip openwork of 15 mm-diameter octagons to allow liquids to drain off.
Presentation
4 tiles cover an area of 1 m2. Each cardboard pack contains 20 tiles, i.e. enough to cover 5 m2 of plastic flooring.
Properties:
Temperature insulation. Prevents direct contact between the feet and the floor.

Protection from humidity and water. Prevents slippage due to water or oil, e.g. in bars, gyms, industrial workplaces, the nautical industry, fish farms, etc.

Load resistance of up to 10 MT/m2, which is equivalent to approximately 2,500 kilos of weight distributed over each tile.

Allows water to circulate freely thanks to the design of its support points.

Rot-proof and resistant to treatment with chemicals, such as detergents.

Easy to store.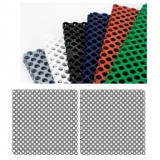 Flooring tiles Solkit
Article:flooring—tiles—solkit
Made in: EU
Model: Solkit
Category: Equipment for locker rooms, floorings