Flooring parquet for gaming halls SPRINGAIR ELITE, FIBA approved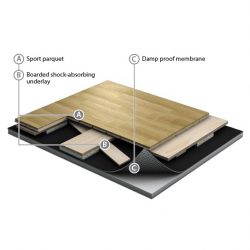 Article:flooring—parquet—for—gaming—halls—springair—elite—fiba—approved
Made in: EU
Model: SPRINGAIR ELITE
Category: Flooring for indoor sport halls
Technicals Features:
RECOMMENDED APPLICATION AREAS:
— Basketball
— Handball
— Volleyball
— Futsal
— Competitions
— Trainings

SpringAir Elite is a parquet system designated for use in multi—purpose sports halls. It is especially suitable for competitions in team ball sports (such as basketball, handball, volleyball, futsal, etc.).

The upper part of the system is a three—ply sports parquet structured so as to ensure excellent dimensional stability. The specially composed high—abrasion sport varnish applied in 9 layers provides an optimal balance of slip and grip properties essential for team sports. Due to the superior shock—absorbing underlay, the system efficiently protects athletes' joints and provides an ultimate background for outstanding athletic performance.
Total thickness mm 41,0
Total weight kg/m2 13,5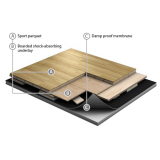 Flooring parquet for gaming halls STRONGAIR ELITE, FIBA approved
Article:flooring—parquet—for—gaming—halls—strongair—elite—fiba—approved
Made in: EU
Model: STRONGAIR ELITE
Category: Flooring for indoor sport halls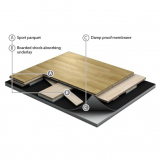 Flooring parquet for gaming halls SPRINGAIR ELITE, FIBA approved
Article:flooring—parquet—for—gaming—halls—springair—elite—fiba—approved
Made in: EU
Model: SPRINGAIR ELITE
Category: Flooring for indoor sport halls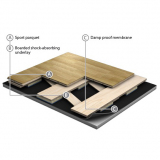 Flooring parquet for gaming halls JUMPAIR ELITE, FIBA approved
Article:flooring—parquet—for—gaming—halls—jumpair—elite—fiba—approved
Made in: EU
Model: JUMPAIR ELITE
Category: Flooring for indoor sport halls