Flooring parquet for gaming halls JUMPAIR ELITE, FIBA approved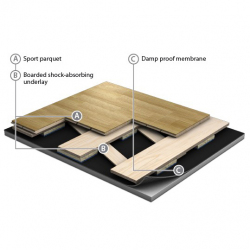 Article: flooring—parquet—for—gaming—halls—jumpair—elite—fiba—approved
Made in: EU
Model: JUMPAIR ELITE
Category: Flooring for indoor sport halls
Technicals Features:
RECOMMENDED APPLICATION AREAS:
— School gym halls
— Basketball
— Handball
— Volleyball
— Futsal
— Gymnastics
— Trainings

The JumpAir Elite sport parquet system is an ideal solution for school gyms where the floor covering is exposed to intensive use through most of the day. It is equally suitable for holding PE classes, competitions and trainings.

The JumpAir Elite system consists of the damp proof membrane (Vaporex), the boarded shock—absorbing underlay (ShockPad Elite) and the upper layer section which is the sports parquet proper (JumpAir).
Total thickness mm 39,0
Total weight kg/m2 11,5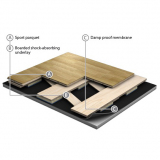 Flooring parquet for gaming halls JUMPAIR ELITE, FIBA approved
Article:flooring—parquet—for—gaming—halls—jumpair—elite—fiba—approved
Made in: EU
Model: JUMPAIR ELITE
Category: Flooring for indoor sport halls