Flooring parquet for fitness centers JUMPAIR BASIC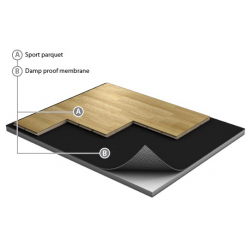 Article: flooring—parquet—for—fitness—centers—jumpair—basic
Made in: EU
Model: JUMPAIR BASIC
Category: Flooring for fitness and dancing halls
Technicals Features:
RECOMMENDED APPLICATION AREAS:
— Dancing halls
— Fitness halls
— Gym halls

JumpAir Basic floor system is designed primarily for fitness and dancing halls.
It is also suitable for training rooms, fitness or cardio studios, gymnastics halls and sports rooms in homes, in schools and in kindergartens.
The JumpAir Basic system consists of the cellular moisture barrier (Vaporex 40) and the upper layer which is the sports parquet proper (JumpAir).
Total thickness mm 18,0
Total weight kg/m2 9,0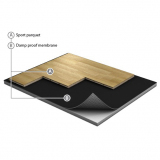 Flooring parquet for fitness centers JUMPAIR BASIC
Article:flooring—parquet—for—fitness—centers—jumpair—basic
Made in: EU
Model: JUMPAIR BASIC
Category: Flooring for fitness and dancing halls