Flooring mat for locker rooms and swimming pools Duckboard PVC
Made in: EU
Model: 2410005
Category: Floorings

Technicals Features:
Floor Matting, made of soft and flexible yet durable PVC—foam. Slip—resistant, provides a good grip for shoes and bare feet alike. Suitable for wet/dry areas, including sauna. Hygienic, easy to keep clean. Simple to cut length and shape.

Weight: 5,5 kg/ sq. m. Thickness : 11,5 mm. Width 60 cm. Two other sizes — standard: 19010 — 75 cm and 19020 — 91,5 cm. Manufactured of a soft and flexible PVC. Rolls of 10 meter. Colors: red, blue, grey, brown or green with black transverse ribs underneath.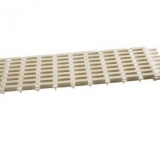 Flooring tiles TF-80
Made in: EU
Model: TF—80
Category: Eguipment for locker rooms, floorings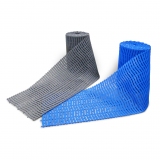 Flooring mat for locker rooms and swimming pools SOFT ROLL
Made in: EU
Model: E5216
Category: Equipment for locker rooms, floorings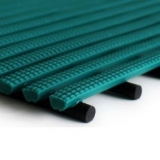 Flooring mat for locker rooms and swimming pools STOP
Made in: EU
Model: STOP
Category: Floorings