Competition gymnastics floor FIG approved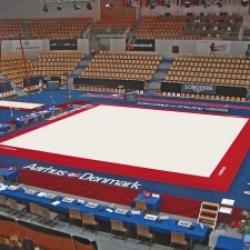 This equipment is no longer supplied. Please search through the catalog for analogues.
Company: Gymnova
Model: 6570
Category: Gymnastics equipment

Technicals Features:
Total depth 14.5 cm. Wooden floor 13 x 13 m (depth 10 cm). Covering carpet 14 x 14 m. Includes 3 anti—rotation mechansms (ground/floor, floor/foam and foam/carpet). Foam dimensions 13.5 x 13.5 m, depth 4 cm.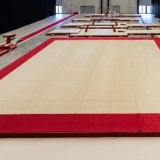 Training Spring Floor 13.05 x 13.05 m with carpet - with unmounted springs
Made in: EU
Model: 6577DE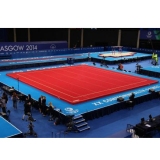 Competition Sprung Floor 14 x 14 m Glasgow with roll-up mats - FIG Approved
Made in: EU
Model: 6576
Competition Spring Floor 14 x 14 m Glasgow with carpet, FIG approved
Made in: EU
Model: 6575