Beach soccer goals 180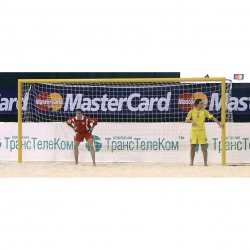 This equipment is no longer supplied. Please search through the catalog for analogues.
Company: Haspo
Model: 180
Category: Equipment for beach soccer

Technicals Features:
5.49 × 2.21 m
These goals are equipped with the special profiles 120 /100 mm of
the Haspo soccer goals and a yellow powder coating. They
correspond to the construction of the goals "For insertion into
ground sockets". The only differences are the goal size and the
special ground sockets.
The ground sockets are simply dug in the sand.
We recommend to load the net with chains in the ground area.
Standard equipment: Yellow powder coated finish.
Incl. net hoops and net hoop braces of aluminium tube, diameter
30 mm, Safety system net holders and special ground sockets –
insertion depths 300 mm – with covers.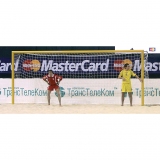 Beach soccer goals, 5.50x2.20 m
Made in: EU
Model: 180
Category: Equipment for beach soccer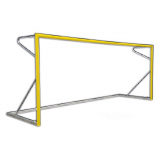 Beach soccer goals
Made in: EU
Model: S05020
Category: Equipment for beach sports