Beach - Junior Water Polo Goal, made according to FINA standards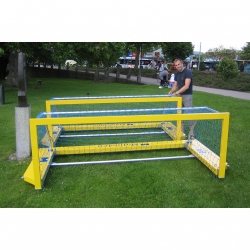 Made in: EU
Model: 1511004
Category: Equipment for water polo

Technicals Features:
Beach/Junior Water Polo Goal made according to FINA rules. It's a free—floating model with reliable frame construction made of aluminum profiles, powder painted white and with a floating white support. The width of the support ensures a stable well afloat goal. Main features: It arrives almost ready to use, as easy as 1—2—3! It is foldable for ease of storage and transport. It is provided with a possibility for adjusting water level position. Comes equipped with castors for ease of transport and handling.

Water polo goal, free—floating. Width 3 m. Height: 90 cm. Depth: 158,6 cm. Material: Aluminum. Measurements of frame: 75 x 40 mm. Nets included. Sold by unit. Freight info: 375 x 165 x 30 mm (Note the length of 375 mm!). 1,85m3. 65 kg per box with one unit.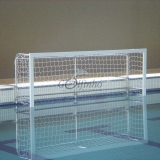 Water Polo Goal fixed - FINA approved
Made in: EU
Model: E5036
Category: Equipment for water polo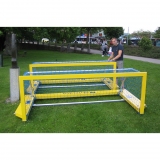 Beach - Junior Water Polo Goal, made according to FINA standards
Made in: EU
Model: 1511004
Category: Equipment for water polo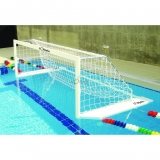 Water Polo Goal floating - FINA approved
Made in: EU
Model: E5070
Category: Equipment for water polo