Bath Attendant Chair, folding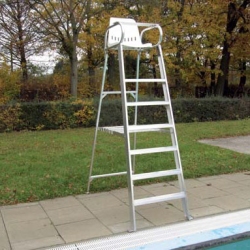 Made in: EU
Model: 505
Category: Equipment for water polo
Technicals Features:
Maintenance—free – assured by aluminium finish. "Folding" feature provided through application of special hinges between seat and support.
Space—saving storage is thereby assured.
Ladder part with especially wide and non—slip steps. Matching spars are also made of wide special profiles.
Stability assured by disc feet. Through bores in the disc feet, additional anchoring of the chair by ground pegs is possible.
Fatigue—free and comfortable sitting posture by application of a UV—resistant perforated moulded seat plastics of correct anatomical design.
Wide writing board of weatherproof plastics.
Low freight costs, since the unit is packaged in two cartons.

Standard equipment: Natural bright aluminium finish.
Incl. UV—resistant, perforated plastic moulded seat, writing board, string bag, disc feet, and 2 clothes hooks.
OP grating corner for swimming pools
Made in: EU
Model: 2310003
Category: Equipment for swimming pools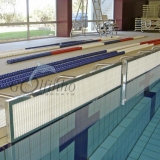 TURNING PANEL for swimming - LANE WIDTH 2,5M (4 SUPPORTS)
Made in: EU
Model: E5029
Category: Equipment for swimming and water polo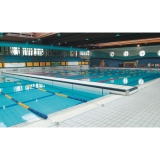 Mobile bulkhead for swimming pools
Made in: EU
Model: Mobile bulkhead
Category: Equipment for swimming pools