Basketball unit, single-upright construction - acc. to EN 1270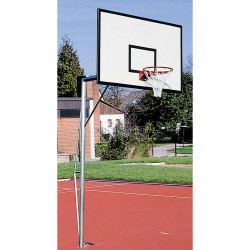 Made in: EU
Model: 700
Category: Equipment for basketball
Technicals Features:
Rugged, functional single upright construction made of 90x5 mm special aluminium alloy tubing. Through a bracing additionally arranged on the tubes and a reinforcd base to prevent bending of the upright, especially steady and torsion resistant performance is assured.
To prevent unit distorsion, the ground sockets – total length 600 mm, insertion depth 450 mm – are provided with a cross—pin. Appropriate slots are available at the upright end.
— Special wedges prevent wavering of uprights in the ground sockets. Additional cross beams from back board fixing to upright acc. to CEN—Norm
— stable rear structure as back board mounting made of thickwalled aluminium profiles. Additional bracing of back board mounting to upright
— glass—fibre back board – measuring 180x105 cm – absolutely weather—proof, scratch— and impact—resistant finish

Standard equipment: Natural bright aluminium finish

Basket height 3050 mm
Total overhang 1650 mm
TÜV in connection with the Protection cushions of Cat.—no. 5173.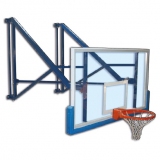 Basketball backboards, wall mounted, side folding
Made in: EU
Model: S04060
Category: Equipment for basketball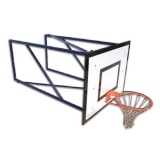 Mini-basket backstops, wall mounted, projection 185 cm
Made in: EU
Model: S04152
Category: Equipment for basketball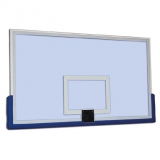 Basketball backboard, safety tempered glass
Made in: EU
Model: S04208
Category: Equipment for basketball