Basketball Portable Backstop Silver Slammer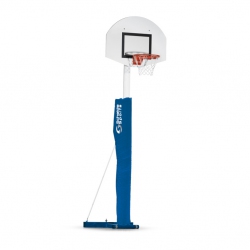 This equipment is no longer supplied. Please search through the catalog for analogues.
Company: Schelde Sports
Model: Silver Slammer
Category:
Technicals Features:
Rollable non—folding basketball stand.
• Height adjustable single post upright on weighted base, wheeled.
• Ring heights 213, 245, 260, 275 and 305 cm.
• Projection 30 cm.
• Storage height 240 cm.
• Backboard made of fibreglass, fan shape, equipped with a dunk ring and net.
• Supplied with floor connector (excl. floor hook).
• Removable post padding is included.

Silver Slammer is our most economical portable unit that combines height adjustabililty with limited space requirements and easy portability.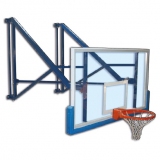 Basketball backboards, wall mounted, side folding
Made in: EU
Model: S04062
Category: Equipment for basketball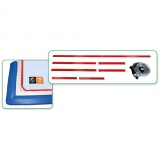 Basketball backboards - kit of electronic red light device to be connected to 24" shot clock
Made in: EU
Model: S04226
Category: Equipment for basketball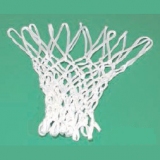 Basketball net, nylon cord
Made in: EU
Model: S04240
Category: Equipment for basketball