Automatic Start System for canoe-kayak races certified by FISA and ICF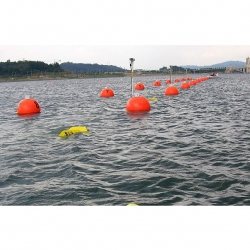 This equipment is no longer supplied. Please search through the catalog for analogues.
Made in: Hungary
Model: C+K/9 (9 gates / line)
Type: main equipment for rowing channels
Starting System is constructed from high quality, heavy—duty components, which make it resistant against stormy wind and extreme waves.
The System can be assembled quickly and can be transported on a trailer.
Operation parameters:
— Gate alignment accuracy on the Start line: within 5 mm
— Gate movement speed: 2,8 m / sec
— Gate submerging time: 0,1 sec
— Gate return to start position time: 5 sec
— Gate return position accuracy: 0,5 mm
— Maximum start frequnecy: 10 starts / minute
Mechanical parameters:
Frame material: aluminium
Other materials, accessories: stainless steel
Weight / module: canoe-kayak 75 kg / rowing 90 kg / dragonboat 95 kg
Transport: on trailer or in 20 feet (6 m) long containe
Maintenance period: once a year