Athletic Track Regupol PD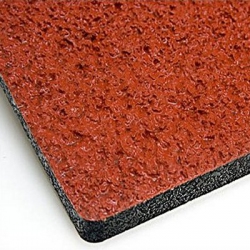 This equipment is no longer supplied. Please search through the catalog for analogues.
Made in: Germany
Model: Regupol PD
Category: Athletics protective equipment

Technicals Features:
The base mat of Regupol® PD is a prefabricated material which is placed on site and bonded to the subbase. As the production process is supervised an uniform thickness and density of the coating can be ensured. This results in an entire reliable force reduction. The spray coating is very imple to install. Regupol® PD is therefore a cost effective solution for all sports facilities.
1. Regupol® PD - Asphalt layer on sub-ballast
2. Regupol® PD - Application of adhesive
3. Regupol® PD - Coasting of the prefabricated base mat
4. Regupol® PD - Closing of the pores of the base mat
5. Regupol® PD - Spray coating consisting of liquid polyurethane and EPDM granules