AQUABOT ULTRAMAX VACUUM (W-REMOTE) - for cleaning swimming pools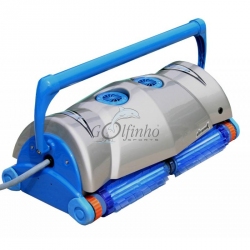 Made in: EU
Model: E5034
Category: Equipment for swimming pools
Technicals Features:
Ultramax, our wide body commercial pool cleaner, offers features and performance like no other pool cleaner on the market. Its modern styling and advanced 21st Century technology gives the Ultramax the ability to clean any Olympic or semi—Olympic size pool.
The key to Ultramax's high—performance characteristics is our patented AquaSmart System. The AquaSmart System is a unique electronic program linked to a sophisticated directional control mechanism.
This combination of on—board computer and electro—mechanical design enables the Ultramax to literally map any pool configuration to thoroughly and efficiently clean your aquatic facility in a measured, systematic manner that eliminates wasteful wear & tear overlapping cleaner motions.
The result is a significant increase in reliability and cleaning accuracy superior to that of other swimming pool systems.
2 years or 1500 hours warranty.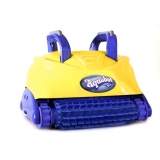 AQUABOT NEPTUNO CLASSIC - for cleaning swimming pools
Made in: EU
Model: E5201
Category: Equipment for swimming pools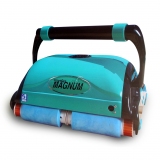 AQUABOT MAGNUM VACUUM (W-REMOTE) - for cleaning swimming pools
Made in: EU
Model: E5032
Category: Equipment for swimming pools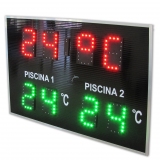 DIGITAL CLOCK-THERMOMETER FOR POOL
Made in: EU
Model: E5143
Category: Scoreboards and timing and scoring systems